Polestar 3: configurator…
Last Updated: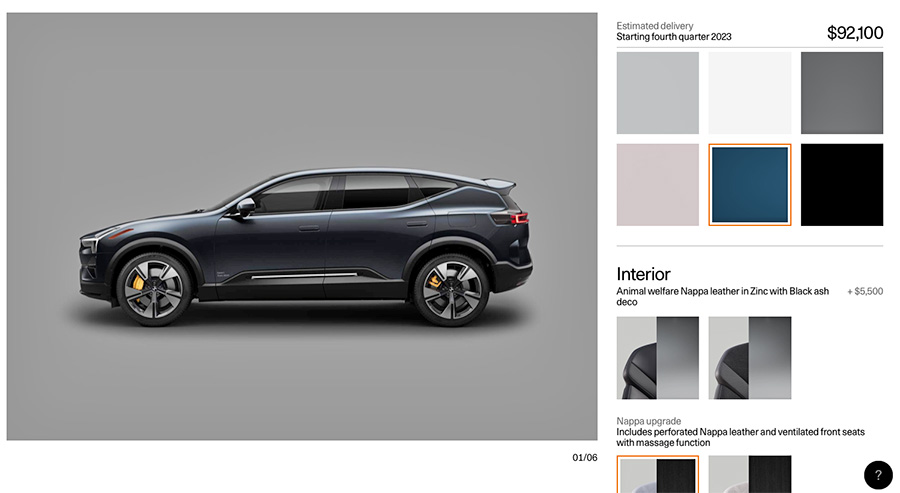 Online configurators are a great way for poor people to dream.
The Polestar 3 is no exception. It is an expensive car, out of reach for most people on the planet (I actually still can't understand how the $66 000 Tesla Model Y is one of the most popular cars around these days). But the online configurator gives you an idea of how much you'd have to save in order to get one.
The first thing I noticed was the lack of color choices. White, black, and grey. (Actually 2 greys). Blue and some champagne hue are the only real colors. I guess if it works for Tesla, they probably figure people don't care.
Inside, things seem to be black as standard. Unless you pick "Nappa upgrade" where you can choose light grey or tan. But this is a $5500 premium. Yes. A $5500 premium over the $84 000 base price. Although for some reason, the configurator seems to also include the Pilot pack and Plus pack. These 2 options seem to be included in the $84 000 price whether you pick the light interiors or not.
With a non-black interior, you're looking at $90 800 at least. Larger wheels are $2300 extra and the blue color is $1300. That's all without the $6000 Performance pack.
A very expensive Crossover indeed. From a new brand. Not sure how many of these they expect to sell, but things might be tough. Especially with Mercedes unveiling their all-new EQE SUV in a few days. It might not look as cool and modern as the Polestar, but it's a Mercedes. Something people have aspired to for over 100 years. And it will probably even be a bit cheaper than the Polestar 3.
I predict a big Mercedes win…