Ram 1500 Revolution: new teaser…
Last Updated: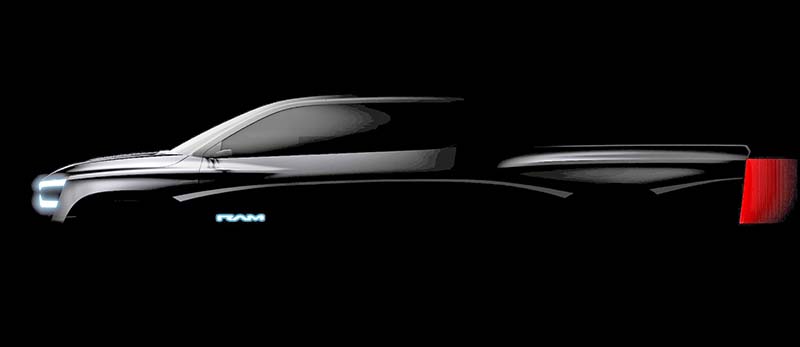 Ram will show a close-to-production concept of their all-new electric pickup truck in a few weeks at the 2023 CES Show in January.
The new teaser shows a bit of the profile of the truck. Which is the usual "odd EV truck proportions" with a pretty short hood. It looks like they are not going to rock the boat and will make it look as much like a regular truck as possible. Kind of like the new GMC Sierra.
Ram still claims will have features not found in other electric trucks. And again, we'll probably see the super loaded version at "around $100 000 " first. Then other versions closer to $50 000 will trickle down in 2024. All these big EV trucks will basically be around the same price. It basically comes down to a matter of choice. Brand loyalty etc… There isn't real competition. No one is trying to make one look truly modern, (Except Rivian) or cost $10 000 less than the competition. Unless you count the super weird Tesla Cybertruck. I don't. We know the $40 000 base price is BS. And it's just way too odd to have mass appeal after a couple of years. Once it becomes easier to get one. The size alone will prevent any decent sales numbers outside North America as well.
But that's another subject…