2008 Ford Focus test drive.
Last Updated: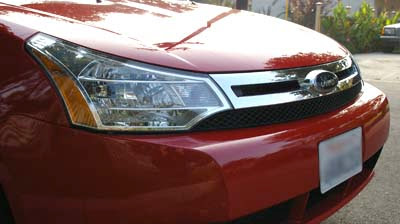 The redesigned 2008 Focus is the new car people love to hate.
And that kind of includes me. On pictures, I thought it was a big let down. And when I sat inside one, I really didn't care for the interior. That flat fake plastic aluminum dash just doesn't work for me.
But…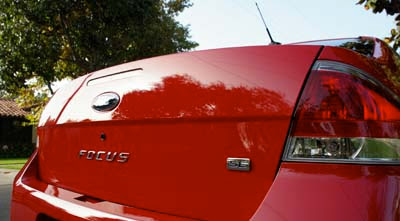 Once in my driveway for a few days, I thought it actually looked OK. I guess I did get used to the design and kind of liked it.
At least it does have some sort of style (Even if it is one some people hate) unlike the new Corolla.
And the few chrome bits do add to it.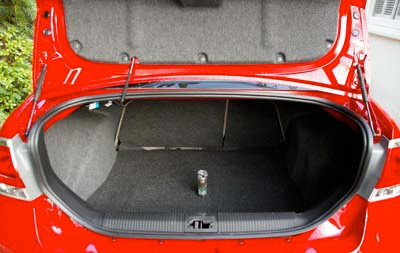 And that trunk is huge and pretty well finished for a car of that price. Better finished than a Chrysler 300.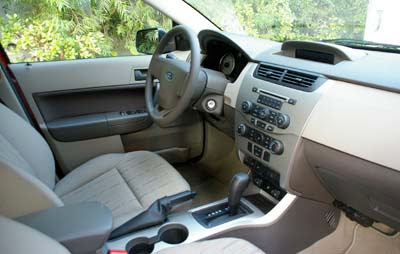 I was pleasantly surprised by the absence of that cheap looking "all aluminum" plastic dash on my SE model. I guess only the SES model has that.
And that interior was actually a more pleasant place to be than I thought it would be.
Everything feels solid and well put together (Unlike the Cobalt). Even though almost every surface is covered in hard plastic.
But I have to admit, more and more car interiors are…
The stereo/AC controls look kind of lost in that big space on the console. But they do feel nice when you use them. And the stereo itself is really good. And includes an iPod plug.
The steering wheel feels and looks cheap. This might be better with leather and radio controls.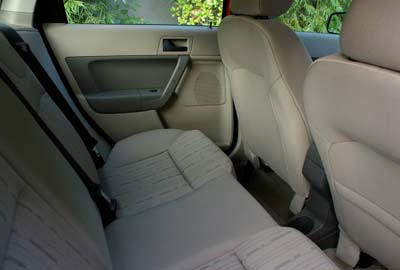 The back seat isn't super roomy, but it's OK. the biggest mistake back there is the total lack of any sort of hear restrains.
A shocking and dangerous fact in 2007.
Once you start it up, the engine has a little bit of that 4 cylinder buzz. But becomes very quiet once warmed up.
As a matter of fact, the car is really quiet and feels very refined. It has a very solid feel to it. More like a German car.
The engine is always smooth and has plenty of power.
The transmission is also smooth and quick to downshift. So it has only 4 gears. Like the 4 gear GM automatics, it's hard to notice.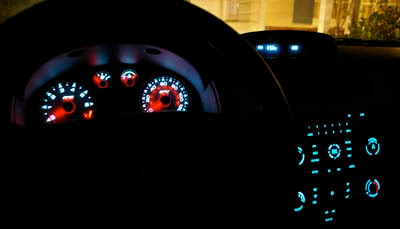 The new Focus handles very nicely. the only small problem I had was with the steering which had a bit of that artificial "Nintendo" like feel to it.
And was just a bit hard in small parking maneuvers. (But I'm a wimp)
The suspension was pretty much perfect. A solid feel and a comfortable ride.
My average mileage was around 26.5 MPG with mostly city driving.
I got up to an impressive 39 MPG cruising at 70 on the freeway.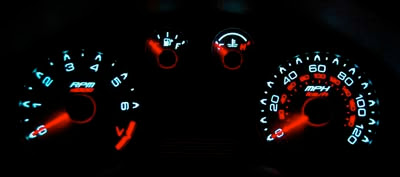 So it turns out I like the new Focus much more than I thought I would. It is a fun car to drive. Just like the "old" one.
And again, it feels like a larger more expensive car than it is. In a good way.
The exterior design is really a matter of opinion. I just wish they designed a proper coupe instead of a 2 door sedan, saving cash by keeping the same roof for both cars wasn't such a great idea.
The lack of rear headrests is really a problem . There is just no excuse for this.
It is just too bad they couldn't spend a couple of hundred dollars in the interior.
The Focus is a really nice driving car with a not so great interior design.
I think I would still rather have fun driving. But that's just me. I am no race car driver, but I would do anything to avoid the Corolla.
The Focus has a great combination of comfort, quiet and fun at the same time.
As far as prices it isn't really cheaper than the competition. And that's a problem.
-The one I drove retails for $16 810 (carsdirect price is $$15 923)
-Civic DX Auto is $16 445 (carsdirect price is $15 948)
I would advise to wait for the "rebate time". Or wait a few months for an even better deal.
But if you get options like leather, sunroof and the really amazing "Sync" system, you can't really go wrong.
Except when you have to explain your "cool" friends you drive a Focus.