Vince Burlapp drives "Big Blue"
Last Updated:

Big Blue comes in other colors too.
We've al seen it by now. the FJ Cruiser is Toyota's retro car/truck.
I've always liked it, and I though it was a good idea to see if it drives as good as it looks…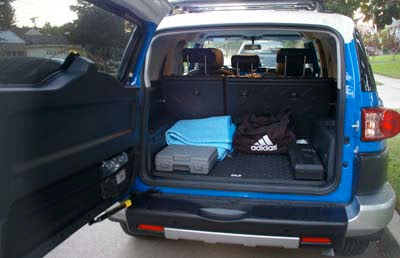 The Fj Cruiser is based on the same frame as the Toyota 4 Runner. And it uses the same 4.0 Liter V6 . A proven combination that has been proven really reliable.
The FJ has plenty of room inside with a roomy trunk area. Some of the interior bits are a bit plasticky, but they look so cool it doesn't really matter.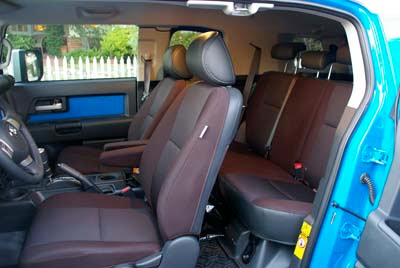 As you can see, the fake suicide doors are really usefull to access the rear seat.
Once you start it up, you notice how smooth and quiet the V6 is. Pretty much like a luxury car. The weird flat and wide windshield is actually really easy to get used to.
And I never got this weird feeling of "driving a living room" I had with the Honda Element.
It is very easy to drive with a smooth steering, good brakes and really comfortable suspension.
It is actually pretty amazing how comfortable the drive is. Considering this wants so much to look like a tough truck.
It's more like a Teddy Bear…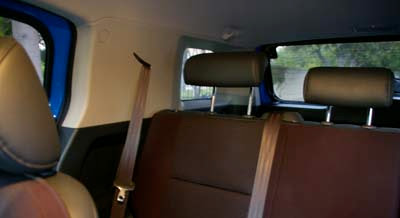 One thing about the cool looking design, there is almost no visibility from the back. Between the huge blind spot and the headrests, you can't see much back there…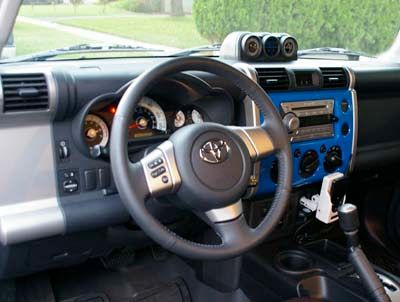 The interior follows the PT Cruiser recipe. Retro with bits matching the exterior color. And it still works.
It is a fun place to be in. They should add an iPod plug though. they have in the Camry but not in the cool and youger FJ??
Who is doing market research on that thing???
The quiet engine and nice car like ride are just an unexpected bonus that make the FJ a very nice car to drive every day.
The only thing that bothered me was the exhaust note.It tries too much to sound like a truck.
It sounds just fake and like an afterthought. Like the Mini Cooper exhaust that tries to sound sporty.
It is just noisy…
I don't get it.There is nothing wrong with a quiet car. Especially when it's not sporty.
Otherwise, I also miss the option of a sunroof. Of any kind. And there is no choice of interior color except black. Which I would never get in L.A…
I had a really good time driving around in "Big Blue" .
It is one of these cars you actually remember driving. And one you wouldn't mind driving every day.
And now, you can pretty much get them for a couple of thousands under MSRP.
Which makes them a really good deal.
If you can live with the "fake trucky" exhaust, the all black interior and the pretty bad mileage, just go for it.