Toyota Camry LE test drive
Last Updated: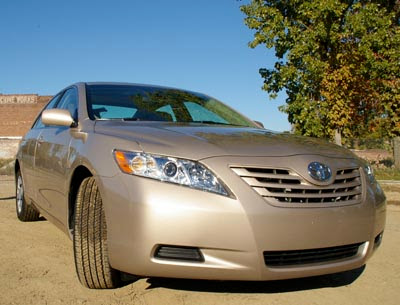 I drove the Camry XLE last year when it came out.
But I had the opportunity to drive the popular LE recently at the same time I was driving the new Malibu.
The Camry doesn't have a striking shape and they are so many out there that it is pretty much invisible in the streets.
But it does look nice. The profile is pretty upscale.
Although the front end still looks like it is made of plastic and the wheel covers (Even the XLE alloy wheels) look pretty cheap.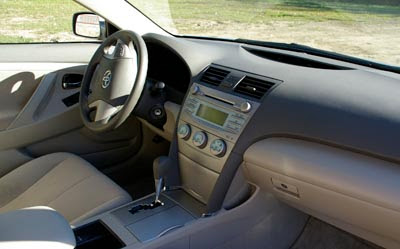 The interior is really nice. the car I drove was very well finished and everything felt and looked very solid.
It is a very peaceful place to be. Especially in the lighter color.
And that is pretty much the mission of this car. To take you where you need to go in a quiet, peaceful, relaxing and civilized manner.
The engine is always quiet, and silent at idle.
The steering is very light but never loose. And the suspension is smooth and quiet.
Everything is really made for you to relax. And that is also what many people don't like about the car. If you really enjoy the driving part of the trip, you might prefer a Passat. Or even the new Malibu.
These people also complain of a lack of personality. But I thing being smooth and quiet is a type of personality.
And that's what this is.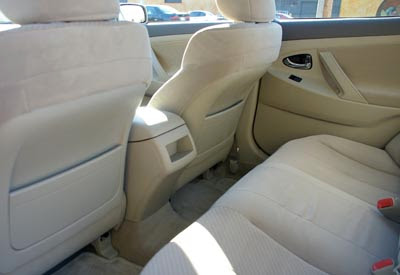 The back seat is also everything you'd expect. Comfortable and roomy.
This pretty much what the whole experience is: what is expected.
And obviously, this is what hundreds of thousands of buyers want every year. Year after year.
And there is nothing wrong with that.
People dream about fast, exotic or even European sedans. But when it is time to sign their name on that dotted line, they all become much more conservative. All of a sudden, reliability, comfort, smoothness and resale value all take the front seat.
And that's where the Camry wins.
The model I drove retails for $$20 685. Carsdirect offers it for $18 011.
That is a lot of car for $18 000.
For my taste I would prefer the Malibu or the Passat.
The Malibu does have much more presonality in the design, inside and out, and the driving experience.
Same with the Passat which makes the driving experience even more special.
But if you are in the market for a family car, and don't really want to stand out, you can't go wrong with the Camry.