Saturn Vue 2 mode Hybrid
Last Updated: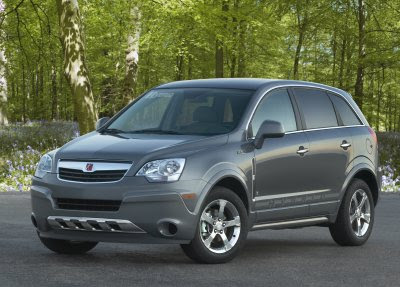 This is the real thing.
So fat the current Vue hybrid, (as well as the new Malibu Hybrid) are just "mild"hybrids that barely improve gas mileage figures over the regular 4 cylinder models.
Here is the PR stuff from GM:
"Like the big truck hybrids, GM combined this Two-Mode system with the largest engine available in the non-hybrid version. That means the Two-Mode Vue uses the 3.6L "high-feature" V-6. The hybrid version is equipped with variable valve timing and direct fuel injection. The direct fuel injection allows the engine to use a higher compression ratio of 11.3:1 with less risk of pre-ignition. The engine also a knock control system specific to each cylinder that allows spark timing to be varied.
To maximize the fuel efficiency and allow for more electric drive time, the Two-Mode Vue has an electro-hydraulic brake system that blends regenerative and friction braking.
Since, unlike the mild hybrid, the Two-Mode is capable of running in electric drive mode, a brake boost system that doesn't rely on engine vacuum is needed. The electronic brake system used in the Vue (and the Tahoe) provides integrated hydraulic brake boost so that a vacuum pump isn't needed as it is on some other hybrids. This helps simplifies packaging and reduce noise.
The Vue Green Line 2 Mode will deliver an estimated 50-percent fuel economy increase over the non-hybrid V-6 Vue. It also is expected to have a driving range of more than 500 miles (800 km).
In addition, the Vue Green Line 2 Mode's 3.6L VVT V-6 engine with direct injection technology ensures there are no trade-offs between performance and fuel economy. Acceleration time from 0-60 is expected to be around 7.3 seconds, and the maximum towing load will be 3,500 pounds (1588 kg).
Production is slated to begin in late 2008."
It all sounds really good.
We"' see…..