Holden Commodore Coupe concept
Last Updated: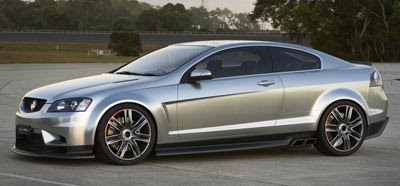 The Commodore is our Pontiac G8.
And this coupe looks pretty close to a production model. Save the ugly and tacky black skirts.
So there is a chance we might get this, if it ever reach production, as a G8 coupe.
Or should I dare say "Firebird"???
On a related note, I will be driving the G8 tomorrow. So far I heard (from talking to people who have driven it yesterday) that it is quite a car. V6 or V8.
The "Pontiac Guy" told me that even with all the options, the V8 will still be under $33 000. But apparently, that does not include a proper navigation sysem, but the onstar turn to turn system. That some people actually prefer to a regular navigation.
I'll be checking everything out….