Pontiac G8 review
Last Updated: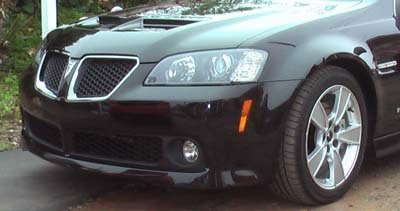 In person, the new G8 is a good looking car.
Although to me, bright red looks pretty cheap on anything that isn't made by Ferrari
The black cars at the driving even looked great. so that's what I picked.
(This picture is actually the GT)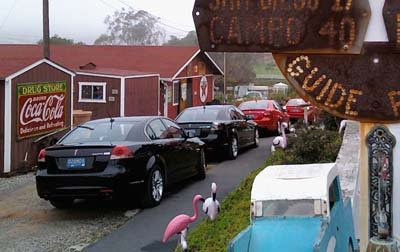 I got to drive the car around San Diego for a few hours.
First I thought the interior of the base model was OK. I think the base cloth on the seats still looks a bit cheap.
So this would be one of these cars where you would want to spend extra on the leather. Plus the cloth doesn't come with a rear armrest, but leather does. Go figure.
The steering wheel is OK. Not as good as the leather, but better than most. Like the cheap feeling one on the base G6.
The dash is also fine, but really uniteresting. At least it isn't blocky like in a Jetta.
But I must say, there is nothing interesting or slightly original in the interior. The new Malibu is much better in that respect.
And it is black. No matter what. (not my thing, but that's just me)
One of the main quality of the interior is the huge leg room space once you're in the back seat.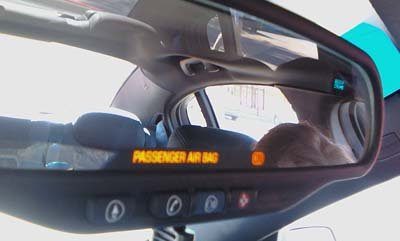 One little annoying thing is this airbag warning light right inside the rear view mirror. it is stupid and always distracting.
Once you start the engine, you notice the nice smooth and quiet V6 from many other GM cars. The steering is fine. At least it doesn't have too much of that "Nintendo feel" to it. But it does feel a bit light and inaccurate, especially for a sporty car.. .
The suspension is a very comfortable.
It is a very easy car to drive. But if you really push the engine, it sounds more like a scream. Basically telling you that's not what this car is about.
Which is a bit surprising. isn't it what the G8 is all about. A four door muscle car?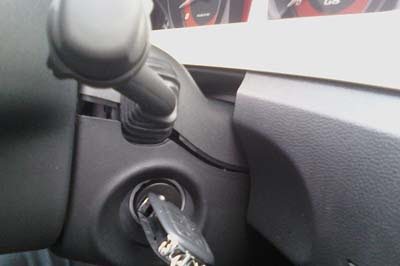 There were a couple of quality issues with the interior. The one pictures here, I just couldn't fix, not matter how I tried.
I also noticed loose parts around the steering column. But that was in all the cars. So I guess it is "normal".
the console was also a bit flimsy when you try to shake it. And the glove box opening has some cheap looking edges.
Sure I'm picky. But I didn't see that in the Malibu.
I think the G8 is a fine car for someone looking for a roomy family sedan.
Starting at $27 500, it competes with V6 versions of the Camry and Accord. While being roomier and looking better.
Plus, you won't be driving everybody else's car.
A loaded V6 goes for $30 700. That includes premium audio, leather and sunroof.
No navigation system is available (yet), you get Onstar.
Compare this with a loaded Camry XLE V6 for $28 800.
Honda Accord EXL V6 at $28 700.
The equivalent Chrysler 300 goes for around $32 000.
So it is a step up from the smaller Japanese cars. With a worse resale.
Yet the Chrysler is even more.
The main problem for me is the lack of personality, compared to the Chrysler. But it does look like a younger person 's car. It drives very nicely, is comfortable and quiet, but nothing you really remember.
I am not sure who it is for. Muscle cars fans won't get a V6. And Pontiac's name will be no threat to Toyota or Honda.
Still, I would put it on my shopping list. (If I didn't mind driving in a black interior)
A huge step forward for Pontiac, and a big step up from the G8.
Does the GT (V8) solves any of these issues?
Stay posted….
I will also post movies that really show much more of the car, inside and out.
Keep checking.