Pontiac G8 V8 Review
Last Updated: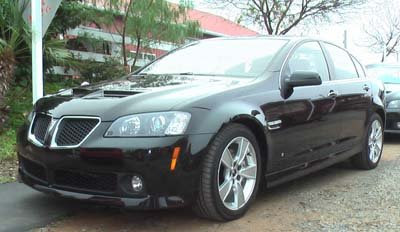 I guess squeezing a big V8 in an affordable car has been an American and Australian specialty for decades. Which explains this car.
Although 99% of buyers will be perfectly satisfied with the "base" V6 and its 256hp, the availability of 361hp in a $30 000 car might be tempting to some.
just like the V6 version, the G8 GT is a really good looking sedan. If a bit anonymous.
Again, I think it looks really good in black. (But what car doesn't…)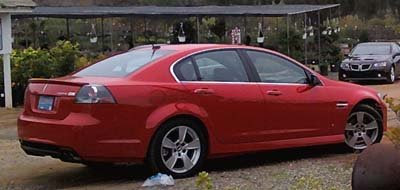 For the first few minutes of my drive around San Diego I was stuck behind a truck. Which forced me to drive in a pretty slow (or normal) and relaxed manner, in the wonderfully twisty roads.
And I was pretty amazed to find out I was doing 23mpg. Which does not really reflects city, or faster driving.
And that's really the point. As soon as I could I floored it and passed the truck.
The engine sounds like a luxury car when you cruise, but once you push it, it reveals its huge power and sporty nature. But it always sounds very refined no matter what.
The thing that really bugged me was how slow the transmission was to downshift.
The engine has more power than anyone needs, but it takes a couple of seconds to feel it. That's really annoying and seems to go against the car personality.
You know they did that to get the best mileage possible. But what's the point of having that much power in the 1st place if it doesn't come instantly???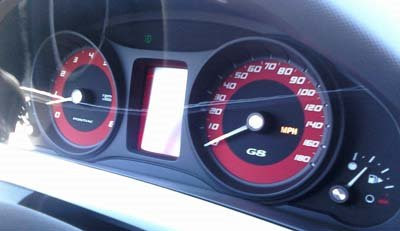 And I also felt that the steering was not as good as the V6.
That is something I also noticed in the Malibu. The base 2.4 Liter car had a much nicer steering than the more "twitchy" one used in the upscale V6 version.
In the G8 GT, it really felt like a video game. Very artificial to me. And required constant adjusting in long straight lines.
Again, something I wouldn't associate in a sports car.
Inside, you can get the option of red inserts on the leather seats.
Which included an armrest not available in the V6 cloth interior.
It also comes with red inserts on the instruments. Which adds to the otherwise very serious interior a bit of fun touches.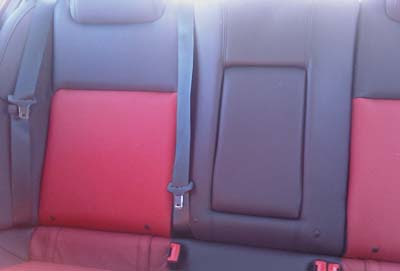 After the drive I was pretty puzzled about the car's mission. It is basically marketed as a 4 door muscle car. With the most power you can get for the money.
But the slow transmission and sensitive steering kind of prevent it from being a true sports car.
And the comfortable suspension is great for the family and the horrible roads we get over here. But it might just be a bit soft when you want to corner really fast in a 361hp car.
And for those who want even more power, just wait for the GXP version next year. With over 400hp and a manual transmission.
They also claim the suspension is upgraded. Something that may be needed even on the GT.
And the Sport Truck "El Camino" style is coming too. So Pontiac really believe in the G8.
It's just too bad we won't get the really good looking wagon version available in Australia. You can blame the Dodge magnum poor sales for that one.
It is quite a lot of car for the money. Even a fully optioned model is $32 700.
As long as you don't expect a BMW (at that price you shouldn't, but some people still do…), don't care about gas prices or what the resale of a V8 sedan might be in a few years, and can live with a few cheap interior bits, you should be happy with the G8 GT.
For my taste, even though the V8 can be intoxicating, I would still pick the cheaper V6 model…