2010 Prius
Last Updated: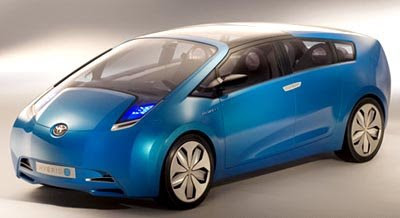 peter Nunn from Auto observer seems to have gather some new info about the all new 2010 Prius.
Are are some highlights:
-We'll see it first at the Detroit show next January.
-New 1.8 Liter replaces the 1.5 Liter gas engine. it will make 110hp instead of the current 75hp.
-Total power to jump from 110hp to 160hp
-Even better fuel economy
-Bigger and "more solid looking"
-Four inches longer and one inch wider
-Extended driving range of the electric only mode.
-About 13% more fuel efficient
-Sales of plug in versions to fleet buyers only by 2010. But not available at launch.(GM can now rest easy…)
-A second body style will come after launch.
-More models using the Prius name
-A larger model using a 2.0 Liter engine, or even a 3.0 Liter sold in the US as a Lexus could come out for 2010.
-Production for the new model to reach 450 000 units a year.
By the way, the picture above shows the Concept X. Which was supposed to show the design direction of the next Prius.
We'll see how the real thing end up looking like…
What do you think????