Saturn Astra test drive coming up.
Last Updated: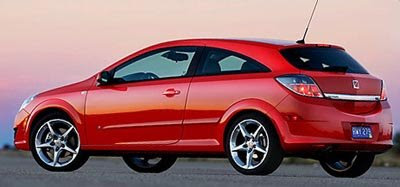 That's right.
I am getting a Saturn Astra to drive for a few days,starting at the end of this week.
Not sure what color, but I know it's the automatic version (Most popular one)
I chose the 3 door. Just because I really like the way it looks.
I remember seeing pictures of it when it came out in europe a few years ago and thinking it was too bad we couldn't get it over here.
So now we can. And I'm just curious.
I have to say I was not too impressed with the interior when I sat in it at the Detroit Auto Show. (the 5 door model)
Even if it is a German car, it is after all, an almost 4 year old design. Due to be replaced in Europe next year by an all new car.
(Although the coupe came out a bit later)
I have seen maybe 2 of these cars on the road. And I don't think this is a hit for Saturn (I'll get exact figures from them later)
You would think it would at least compete with the Rabbit over here. I guess most people don't even know it is a German car.
We'll see. At least I'll look good driving it ( But I always do, no matter what I drive…)
If you have any questions, go ahead.