VW Rabbit on top.
Last Updated: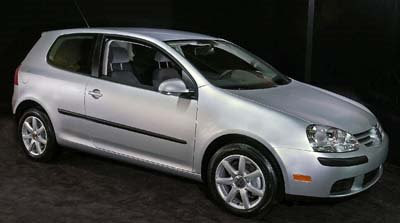 Consumer Reports just put the VW Rabbit on top of its recommendations among other small hatchbacks.
They even say the predicted reliability should be above average.
That's a pretty big turn around for VW.
I like the Rabbit/Golf. Funny because I don't like the Jetta.
But somehow, the same interior in the R32 I drove didn't bother me as much as it did in the sedan.
I am scheduled to get cars to drive from VW. So I will be reporting on the Eos and the GTI.
I guess I should now try the regular Rabbit as well.
Here is a bit of what Consumer Reports has to say:
"With agile handling and a versatile, well-finished interior, the Rabbit feels solid and is a pleasant car to drive. It is also competitively priced and well equipped. Power has increased by 20 horsepower since our last test of its sibling, the Jetta sedan, in February 2006."
And:
"The Volkswagen Rabbit tops this month's group of small, affordable four-door hatchbacks and is now our highest-rated car in small hatchback category, surpassing the Mazda3."
Not bad…
Click on the title for more.