2009 Ford Flex test drive
Last Updated: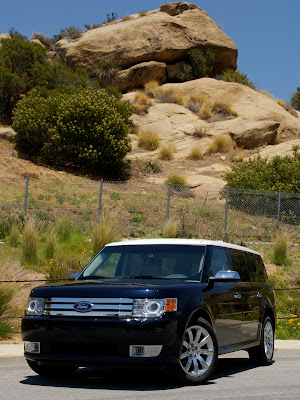 First let me say I really like the design of the Flex. It does have a presence in the streets.
It is much better looking than any minivan available in the US. And it's not an SUV.
It is big but has a friendliness to it.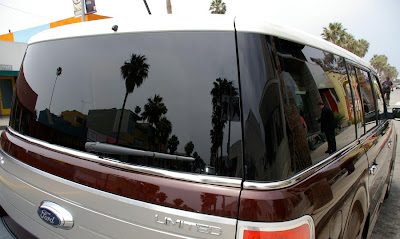 The car is larger than it seems. The top of the line wheels are 20 inches and they don't look big!
That's how large it is.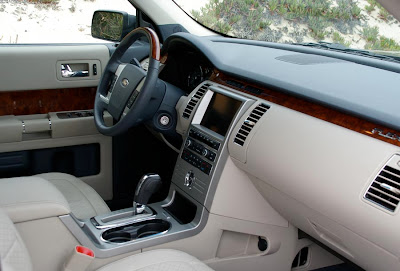 Like many have already said, the interior is not as interesting.
But the designers tried to make it up by using really interesting materials and textures. the overall feel is very relaxing.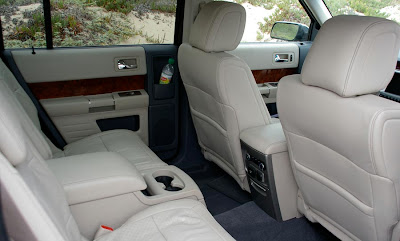 As you can see, it is more than roomy. Even the 3rd row seats fit adults.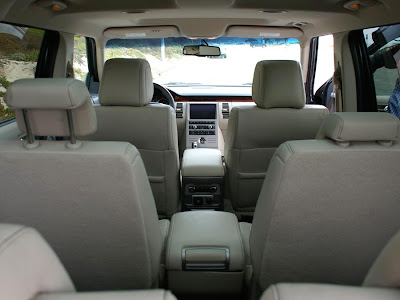 But how does it drive?
Well, first, it feels very solid on the road. Strangely enough the doors feel a bit cheap when you close them. Not from inside but from outside. They still have that metallic sound that doesn't really make you feel you bought an expensive car.
I noticed the same thing with the Edge last year.
The step in is very easy. Not too high or low. But once you get going and drive by other cars, you realize you are actually sitting higher than most.
The engine is smooth, unless you really push it. Then is screams pretty much like most other 3.5 Liter V6 engines out there.
the problem is, it doesn't seem to have much torque at all. And the 6 speed auto always wants to upshift.
On hills, you basically to constantly fight the transmission. And push the engine.
The ride is smooth , but it's no magic carpet. it absorbs bumps but you do feel them.
While cruising, the car is very quiet.
The steering is light but precise, with a very pleasant feel to it.
The Sirius travel link option is pretty amazing. You can find out the cheapest gas prices on your route, or movie schedules from local theaters. Plus instant traffic info etc… All for $6.95 on top of the Sirius subscription.
And I finally got to try Sync. Another amazing feature. It recognized my iPod right away, displaying my playlists right onto the screen.
But I could never get the voice activation to work. No matter what it would always revert to the main menu.
It drove me nuts for about 15 minutes.
I'm sure it can be explained quickly, but I was hoping to figure it out myself.
But hey, it's from Microsoft, so I don't expect it to be that intuitive.
The sunroofs are a great idea, but the one above the driver is just a regular small size one.
The best one is above the 3rd row seat. The front one should be much larger.
The fridge works, but is much too small to accommodate the needs of 5 or 6 people on board.
And make sure you don;t forget your frozen food over night in there.
I think the Flex is an amazing alternative to a regular Minivan. As well as a 7 seater SUV.
It is basically a 21st century American station wagon. Although "wagon" seems to be a dirty word these days…
It is not cheap. About $29 000 for a base model, and over $40 000 for the Limited with options.
The one I was driving had AWD and I averaged 18MPG on our mixed trip with about 15 to 20% freeway driving.
Not bad for such a large car.
It's not a sports car (The engine and transmission let you know that early) but it doesn't look like one.
If you need that many seats, you owe it to yourself to take a serious look a the new Flex.
It's not every day that a large car comes with such strong personality.
I'll post movies soon.