Hello Corvette…
Last Updated: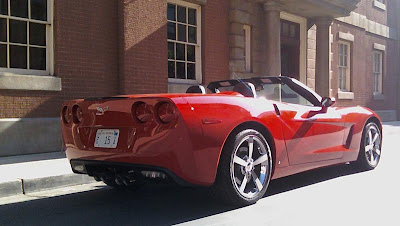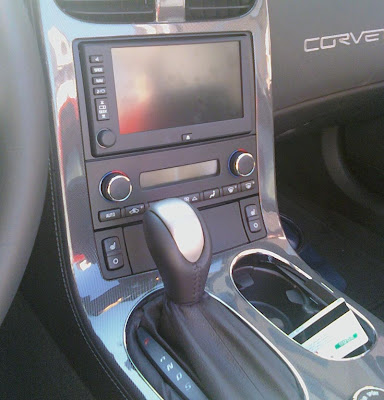 First, I have to admit I have always thought of the Corvette in these terms: always a good looking car, bust not for me.
I am not a middle aged man trying to leave his childhood dream. I must say, there was always something a little bit cheezy about driving a Corvette. Sorry…
I rode into a 70's model many years ago. A friend of mine owned one.
All I remember from that drive was the view from inside the car: the huge hood and fenders. the whole thing shacking up and down as we were hitting bumps on the road…
I also got to drive one of the previous generation model.
It drover better than I thought, but the interior was pretty plasticky and cheap looking. And there was a horrible rattle in the back somewhere…
But the one I am driving now is shattering all these preconceived ideas I had.
I think it does look great in person. I remember thinking it looked pretty average when it came out. Sure, they should push the design a bit more. it's never enough.
The few changes they did inside for this year really work. it is amazing what carbon fiber finish and stitched leather dash can do to an interior.
And I am really amazed how comfortable and easy to drive the car is.
Plus, no more shacking hood and fenders. It is as solid as anything on the road.
So far the car seems to have 2 personalities. the relax, surprisingly easy to drive cruiser. And the beast that appears only when you really push your foot down.
I am not a sports car driver. I like the "cruiser", but it's a great feeling to know the beast is there, ready to answer your command.
And yes, I do miss my iPod. Sure, XM radio is great. But there is only one CD player when you order navigation, and it seems to have trouble reading my MP3 CDs…
More later…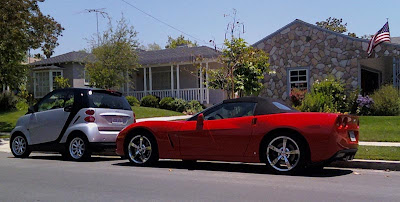 Los Angeles is always about extremes, isn't it…