New Beetle convertible review coming up.
Last Updated: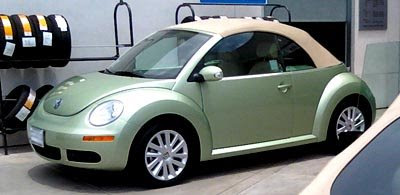 I test drove the new Beetle a few years ago.
It had, back then, a 2.0 Liter engine with a 6 speed auto.
Now the engine is a 2.5 Liter with the same 6 speed auto.
I remember really liking the car. And the lack of power really didn't bother me that much in that kind of car.
The mileage wasn't good for a small car, I averaged about 20 mpg. Not good for a 2.0 Liter engine.
I did test drive the new Jetta with the same 2.5 Liter engine, and didn't really like it. So I was expecting the worse.
But so far, I am pretty amazed how smooth and quiet the engine is in the new Beetle. And there is really plenty of power for the car.
I will be driving this for a couple of weeks, so if anyone has any questions….
More later, including plenty of pictures and videos.