Summer cars 2.Pontiac G6 Convertible.
Last Updated: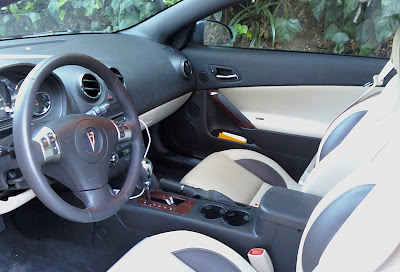 Driving the G6 is pretty much a luxury car experience. The suspension is super smooth and solid, and as I said before, the big 3.9 Liter engine is one of the smoothest engine I've driven.
There is plenty of torque available so driving with a 4 speed only isn't that much of a problem.
What a difference with the Ford 3.5 liter from the Flex. That engine seems to have no torque at all compared to the Pontiac's.
But really, this is 2008, and a mid sized car shouldn't need such a large V6 to get enough power.
You can get the new 3.6 Liter on the sedan. A much more efficient engine that I'm sure will find its way into the convertible soon.
This and the 6 speed auto will improve the appeal of this car greatly.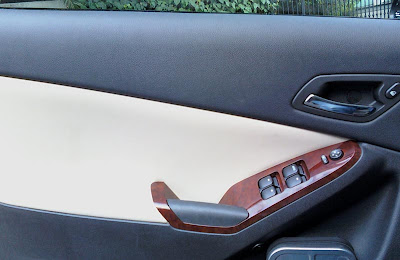 But as in many convertibles, there is quite a bit of flex. You can see it when you drive. The whole windshield area shakes when the road isn't the smoothest. It is not uncommon for convertibles to do that. So I don't consider this a huge problem.
It kind of comes with the teritory.
Except some other models don't do it. I'm not talking about a $90 000 Porsche. But the $24 000 new Beetle convertible feels like a solid piece of granit next to the G6.
And usually, things don't get better with age.
There was still 2 wierd noises in my test car. One window squeak I could fix by lowering the driver's window a bit. But with the top down, there was a strange loud shake from the A pillar on the driver side. That never went away and was driving me nuts the whole time.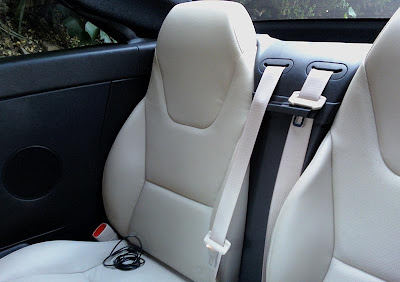 The seats are what they are in most cars in this class. Not very roomy and a bit upward. But they do look great.
Especially in this 2 tone color combo.
I'm not really crazy about the ugly fake wood used inside the car. That should change when they revised the G6 line next year.
The interior also needs a new console.
But after seing what GM did with the revised Cadillac XLR interior (almost nothing) I don't think they'll adress all these problems in the G6 any time soon…
Over about a week my average MPG has been 18.5.
Which is OK but not great. That includes about 60 to 70% city driving.
I did 18 with the Corvette a while ago….