All new Honda Odyssey
Last Updated: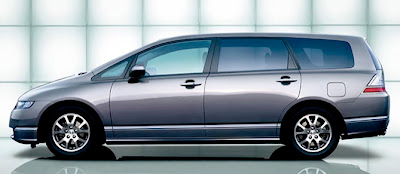 The Japanese one.
The one that is actually coming from the first generation Odyssey we used to have in the US.
Not the bloated "US only"one it became over here.
The 1st picture (the red one) is the upcoming model, while the other one is the current one.
It looks even sleeker.
I think big bloated looking minivans might become a thing of the past even over here.
Or at least not as popular as they were.
This smaller, more stylish type of vans might be the way to go.
How about sending us this as an Acura. Just to see if it works.
Just like what they did about 5 years ago with the Euro Accord. (Which became our Acura TSX)
Smaller but more upscale. It does work. Especially with high gas prices…