Next "all new" Ford Fusion???
Last Updated: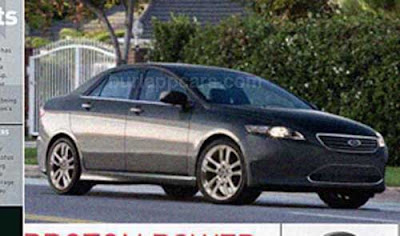 This was sent to me.
At first I thought it was the new 2010 Taurus, but it doesn't match the spy pics we've seen of it. Plus that cell phone shot of the car at the design center.
And it looks smaller.
I also remember reading that the next Fusion and Mondeo will share quite a bit.
The next all new Fusion is due in 2012 as a 2013 model. And it could include a version of the new 3.7 Liter engine in a sport model. So this could be the 2013 Ford Fusion. Or the next Mondeo.
Or… Nothing at all…
The 2010 Fusion is just the same car we have now with new front and rear ends as well as a revised interior.