Chrysler 300 2.7 Liter drive
Last Updated:
We've all seen millions of them by now.
But it is still a pretty distinctive design. Especially compared to the foreign competition. An American car that isn't afraid of looking like one.
Either that, or a caricature of what the former German owners of Chrysler thought an American car should look like.
Either way, the design has aged pretty well, I think.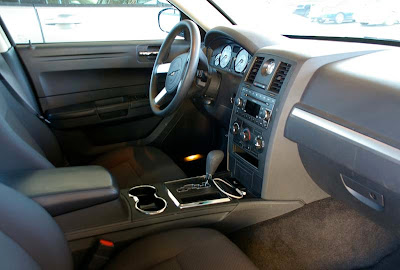 -HOW IS IT INSIDE?
Well, still not that great. They did upgraded the materials, slightly, last year. But this car still deserves a much better interior.
Sure, leather and a sunroof might help a bit. But the base dark cloth is pretty depressing.
The whole thing made me feel like I was a 70 year old salesman. Like Jack Lemon in "Glengarry Glen Ross"…
The dash board is OK. You can see what they could have done with it, but didn't. Like a big center part sticking out.
The finish is also just OK. The stereo sounds fine and has an iPod plug. A funny thing in an old man's car.
The rear seat is roomy, but not that huge. The car itself actually looks bigger than it is…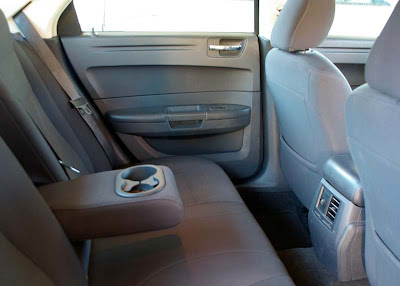 -HOW DOES IT DRIVE?
-Ride.
The ride is just fine. Smooth most of the time without ever feeling soft. Like in the old days.
The view from the driver seat is definitely old fashion. I haven't seen a big flat hood in front of me since my old '68 New Yorker. I actually like it a lot.
-Steering.
Nothing special here. The steering wheel is larger than usual, just like the Mercedes car it is based on. And, again, like older cars.
-Engine.
I have to say, this is the worst part of the car.
The 2.7 Liter has OK power. But it sounds really bad when pushed. Even just a little bit.
In fact, it was much rougher and noisier than the 2.4 Liter used in the Malibu/Aura. And it felt less powerful too.
It's jut way behind almost anything offered these days.
I am sure the 3.5 Liter engine cures most of these concerns.
But it's always a bit sad when you drive a V6 that is much worse than most 4 cylinder engines out there…
-Transmission.
OK, but not great. It works, but it is never super smooth like most are now. Again, this was OK a few years ago.But get into a Passat, and the 300 will feel like a car from the dark ages.
-SO???
Well, I really think the Chrysler 300 is in desperate need of a redesign. The car came out over 4 years ago but feels like it's been 10 years.
I haven't heard much about a replacement coming out any time soon. And it is needed.
But all this doesn't really matter if Chrysler gets swallowed by GM in a few weeks.
It might just become the next AMC.
What will happen with the 300 then?
Or even the new Challenger???
It's al very sad…