Top Gear obnoxious asshole drives a Sebring Convertible
Last Updated: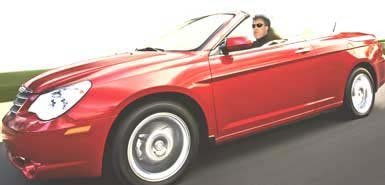 And trashes it, of course.
First, let me say that I have only watched Top Gear a couple of times, an didn't like it.
It's way too gimmicky for my taste.
So this guy is on a trip to the US and drives a rental Sebring Convertible.
And of course, hates it. Like anyone who is used to drive BMWs and Porsches on a regular basis would.
But on top of that, he makes hateful claims like "Because America is a new country, the people who live there have no sense of history. And if you have no concept of "the past", it is extremely difficult to grapple with the idea of "the future", trying to explain the poor quality of US cars.
Click on the title and read it for yourself. It just pissed me off.
I am not in love with Chrylser cars (MY review of the 2.7 Liter 300 is coming up), but I am also tired of millionaire TV stars reviewing regular cars…
Now, just wait for the "Burlapp Show"….