Nissan 350Z test drive.
Last Updated: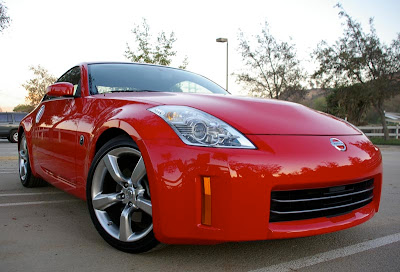 There is nothing new about the 350Z. We've all seen it. Many times.
But I was always curious to see how it drives. I usually do no drive sports car, and when I do, I try to see if they make good every day cars as well.
Plus, the all new 370Z isn't even out yet. But I plan to keep one for a week when they become available.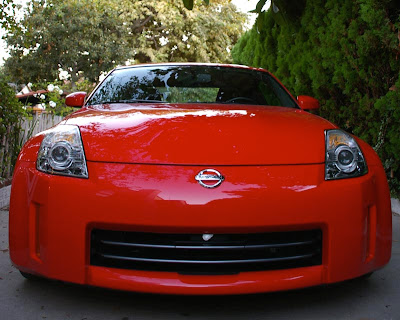 -HOW DOES IT LOOK?
I think this car looks as good as the day it came out. It is still one of the best looking design on the road today.
-HOW IS IT INSIDE?
The interior materials were upgraded a couple of years ago. And they look and feel fine.
This isn't a very expensive car. Before options.
Mine retails at $32 025 with 2 options. But carsdirect has them for $ 28 705.
So you won't get an Audi type interior. (The 2.0 Liter TT starts at $35 575)
It is roomy for 2 people. There is still no glove compartment, but somehow there was enough room to store small stuff inside the car.
the base stereo sounded really good, but does not offer an iPod plug (We are in 2008)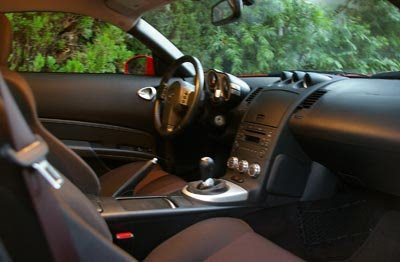 -HOW DOES IT DRIVE?
-Ride.
The ride is of course firm. Sometimes very firm. But I never felt it was harsh.
It's just the way you expect it in this type of car.
-Steering.
Again, the steering is what you expect. It's no Lexus. But that's not what you want here.
It is firm and very precise.
The steering wheel is nice, small and thick. And well finished.
-Engine.
The engine sounds great, with just enough "noise" from the exhaust. It's never too much or too loud. But always there to remind you that this car can go very fast if you want to.
And it has a nice expensive sound to it. Unlike the Porsche Caymen that does sound horrible.
It is of course powerful, and always super smooth.
-Transmission.
My test car had the standard 6 speed, so I cannot comment on the Automatic.
It was sometimes a little tough, but that's OK. Again, what I would expect.
I only stepped into the wrong gear a couple of times, but that's just because I'm a moron.
-SO???
I really enjoyed driving the Z for a week.
The car delivered a steady 21MPG average after my 7 days of driving it around. (got almost 30 on the freeway)
I think that's pretty good for 306hp from a pretty large V6. In mostly city driving.
It is a very pleasant car to drive every day. It sounds great doing it too.
The only thing I was missing was a sunroof. Or something. The top is pretty low and the dark interior doesn't help.
I guess that's why they have a convertible right?
I would definitely recommend the 350Z for anyone looking for a great looking fun car to drive.
And with the new one coming out soon, I am sure the deals on the current model will get even better.
If anyone can get credit, that is…..