2010 Kia Sould price
Last Updated: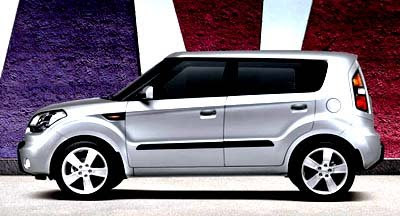 It will start at $14 000 for the base 1.6 Liter car.
It does include ABS, air, power windows, power locks and a stereo with a USB plug for your iPod.
The 4 speed auto is $1000 more.
That is almost $2500 less than the Scion Xb!
The top of the line Sport model with a 2.0 Liter engine black and tan interior, Sunroof, 18 inch wheels, better sound system etc.. Will go for $17 000.
That seems to be pretty good.
But, I did sit in the Soul Sport at the Auto show and was pretty surprised how cheap the interior looked.
Maybe I was expecting too much, I don't know. But $17 000 is still $17 000.
And the interior materials were very cheap, and hard.
So, a cool looking car. With cheap plastics inside.
Nothing new, is it….