Mercedes Splitview
Last Updated: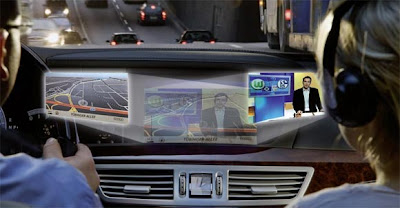 When the revised S Class comes out this summer, it will get a new option;Splitview.
Where the image on the video screen is projected in 2 different places.
One for the driver, one for the passenger. Both coming from the same unit on the dash.
So the driver can see the GPS map while the passenger is watching the news, or a movie.
Do we really need that kind of distractions while driving? Are people that bored?
Do we need to be staring at a screen and be entertained at all time????
Are we becoming like the humans in Wall -E????