Honda Fit #1
Last Updated: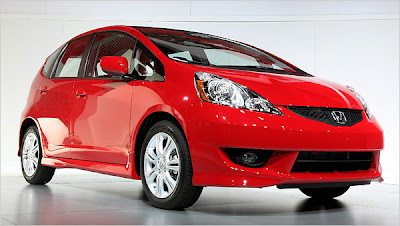 At least for Consumer Report, which compared it to the Nissan Versa, Toyota Yaris, Chevy Aveo and Suzuki SX4.
They do like the SX4 and the Yaris as well. But claim the Versa is outdated and unpleasant.
Also mentioning that the Versa sedan's reliability has been "Much below average". But also saying the reliability for the hatchback is "average".
Which doesn't make any sense…
Anyway, here is the whole thing in their press release:
……………
"
Redesigned Honda Fit Tops Consumer Reports' Ratings of Subcompact Cars
Fit easily outscores competitors including Toyota Yaris, Nissan Versa, Chevrolet Aveo and Suzuki SX4
YONKERS, N.Y., Feb. 2 /PRNewswire-USNewswire/ — The newly-redesigned Honda Fit outpointed competitors including the Toyota Yaris and Nissan Versa in Consumer Reports' tests of six subcompacts and small sedans for the March issue. The Fit remains CR's highest-rated subcompact.
The Honda Fit became a hot-selling vehicle when gasoline prices topped $4 a gallon. A redesigned and slightly larger Fit arrived last fall, and it improves on the space-efficient formula that made the last one such a hit with buyers.
"The Fit seems roomier on the inside than you might expect, with an interior that is unusually versatile and flexible–and cargo capacity rivaling that of a small SUV," said David Champion, senior director of Consumer Reports' Auto Test Center in East Haddam, Connecticut. "Lightness and agility make the Fit fun to drive, the powertrain is smooth and willing, and fuel economy is enviable."
Consumer Reports tested two trim lines of the Fit, a base model with an automatic transmission and a manual upscale Sport model, both of which earned "Very Good" overall road test scores. CR also tested two other subcompacts–a base model Toyota Yaris and a Chevrolet Aveo5, both of which scored "Good" overall, and two small sedans–the Suzuki SX4 and Nissan Versa, both of which were rated Very Good overall.
Prices for the six cars in CR's tests range from $16,020 for the base Fit to $17,378 for the Suzuki SX4.
Full tests and ratings of the test group appear in the March issue of Consumer Reports, which goes on sale February 3. The reports are also available to subscribers of www.ConsumerReports.org.
The Fit and the SX4 are the only vehicles from this month's test group that are Recommended by Consumer Reports. CR only Recommends vehicles that have performed well in its tests, have at least average predicted reliability based on CR's Annual Car Reliability Survey of its more than seven million print and web subscribers, and performed at least adequately if crash-tested or included in a government rollover test.
The Versa sedan's reliability is much below average; reliability for the hatchback Versa has been average. The Aveo and Yaris scored too low in CR's tests to be recommended.
CR's engineers found the new Fit the most practical and enjoyable car in this month's group. It has easy cabin access and a panoramic view out. It also comes well equipped and has comfortable seating. The base Fit ($16,020 Manufacturer's Suggested Retail Price as tested) and Fit Sport ($16,730 MSRP as tested) are powered by a 118-hp, 1.5 liter four-cylinder engine that delivers quick takeoffs but doesn't brim with power. The Fit Sport's easy shifting five-speed manual transmission adds sportiness; the five-speed automatic in the base model is more relaxed, with lower engine speed on the highway. Braking was rated Very Good. Fuel economy is an impressive 33 mpg overall in the Fit Sport and 30 mpg overall in the base model with the automatic.
The SX4 LE was conceived as a subcompact, but its price and 26 mpg overall fuel economy makes it compete more closely with cars one size bigger. The SX4 has a stiff, choppy ride on rough and smooth roads. Steering isn't quick or communicative. The SX4 LE ($17,378 MSRP as tested) is equipped with a 143-horsepower, 2.0-liter, four cylinder engine that is mated to a fairly smooth four-speed automatic transmission. Acceleration feels a bit lethargic. Braking performance is very good.
The Versa has a nicely made, well-appointed interior. It rides pleasantly and quietly, and the powertrain feels refined. The rear seat is enormous for a small car. Handling is sound but not really agile, and it's tricky at the limits. Its 27-mpg overall fuel economy is not impressive. The Versa 1.8S ($16,130 MSRP as tested) is powered by a 122-horsepower, 1.8-liter, four-cylinder engine that accelerates adequately; the four-speed automatic is smooth and responsive. Interior storage is modest, but trunk space is quite generous. Braking is very good.
The compactly-sized Yaris is ideal for tight spaces, making it a good city car. Its gets very good fuel economy at 30 mpg overall and has some nice interior touches such as a rear seat that adjusts fore and aft and three glove compartments. Handling is responsive but can be tricky at the limits. The base model Yaris ($16,095 MSRP as tested) is equipped with a 106-horsepower, 1.5-liter, four-cylinder engine that feels lively enough around town but lacks reserve power for the highway. The four-speed automatic shifts smoothly. Braking is excellent.
Despite recent updates, the Aveo remains unpleasant, outdated, and overpriced for what you get. Acceleration is slow, the engine is rough and noisy, handling is clumsy, and the ride is jumpy. Fuel economy at 26 mpg overall is poor for its class, and reliability has been below average. The Aveo51LT ($16,470 MSRP as tested) is powered by an anemic 106-horsepower, 1.6-liter, four-cylinder engine, and the four-speed automatic transmission isn't very responsive. Braking performance is very good."