Mazda6 2.5 Liter Touring review
Last Updated: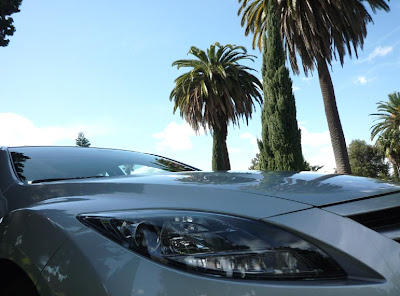 The model I drove for a week was a Touring version equipped with the smaller 2.5 Liter engine.
It's not the top of the line, but not a base model either.
Mine also had a Bose and premium package.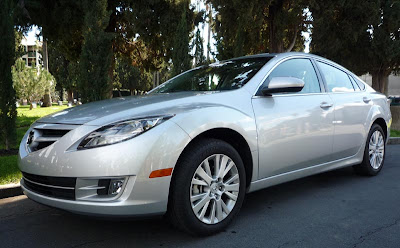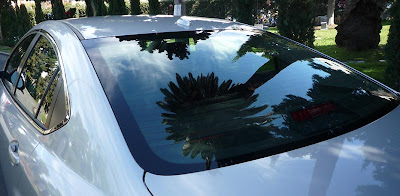 -HOW IT LOOKS.
I always thought the new Mazda6 looked great. And I wasn't dissapointed.
In real life, it stands out even more, especially when compared to cars like the Camry and the Accord. I don't think it is as good looking as the shorter European model. Especially the hatchback version.
But it is still one of the best looking sedan available over here. In my opinion.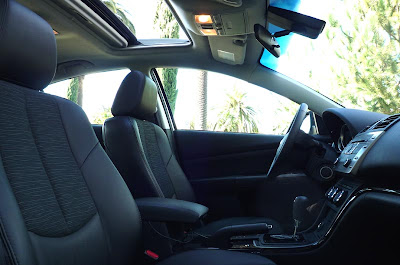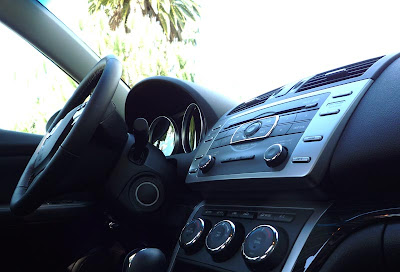 -HOW IT IS INSIDE.
The interior is also one of the best I've seen in a long time.
It looks great and has a quality feel to it. Soft plastics are almost used everywhere.
Everything is where it is supposed to be.
The dashboard is pretty far from the driver, which gives and even stronger impression of space. But the console ends up being a little far to reach.


The back seat is amazingly roomy. There is no secret there. You can tell it is a pretty big car when you turn around to back up.
It is only shorter than the new Accord, by about half an inch. It is about 2 inches longer than the Malibu, and 4 longer than the Camry or the Altima.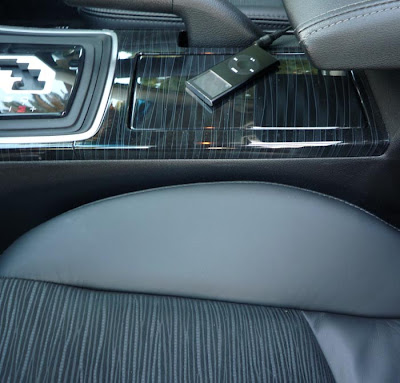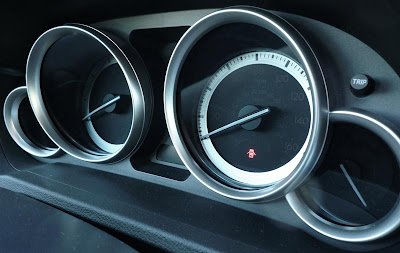 There are plenty of nice details inside. Like the dial surroundings on the dash. (No cheap looking plastichrome).
Or the pattern on the console and dash, matching the cloth part of the seats.
It's just a very nice place to spend some time. Again, one of the best interiors around in this class.
The optional Bose stereo didn't sound as great as I expected. But this isn't the 1st time I experience this.
Either base systems have become really good, or high end makers like Bose and JBL are relying too much on their image…
I just don't think it's worth the extra, but you have no choice if you want a sunroof. They are part of the same package.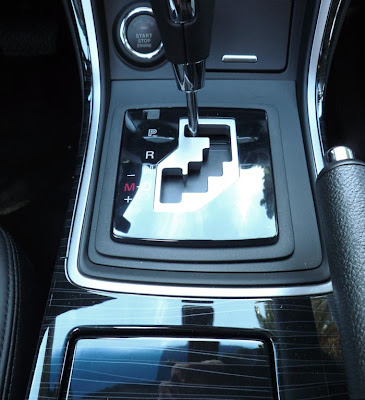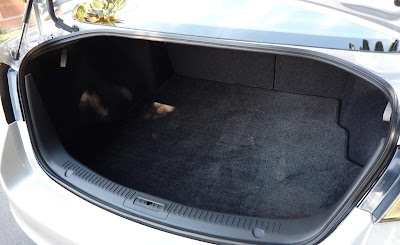 -HOW IT DRIVES.
-Ride.
The ride is amazingly smooth. I say amazing because I was expecting the Mazda6 to be quite sporty. It isn't.
It is more of a solid luxury ride setup. Not quite as smooth as the Malibu. But better than the Accord.
-Steering.
I remember loving the steering of the previous version. This one is very good, but not as memorable. It does the job and at least doesn't feel like a Nintendo game.
-Engine.
I think the new 2.5 Liter engine is the weakest part of the car.
We are now used to super smooth and quiet 4 cylinder motors. Like the one in the Malibu/Aura, or Accord and Camry.
Even the one in the Altima is fine until you push it.
But in the Mazda6, that 4 cylinder "Buzz" is just more present. It's not that bad. But it's there. At least, unlike the Nissan engine, it never gets coarse or too loud when you push it.
Plus, there is a small vibration at around 1000RPM. And you always go through 1000RPM, especially in traffic.
The worse is when you go into reverse. For some reason, that's when the engine does a great impression of a good diesel.
It's almost weird…
This engine just feels like it belongs in a smaller, cheaper car. (Must be great in the 3) .
I was also surprised by the lack of pick up.
170hp should be fine. But it feels much slower than about any other mid size car I've been driving lately.
At least gas mileage is good. It was easy to get between 18/19 MPG in just city driving. And I reached 34MPG cruising at 65 on the freeway.
Not bad for such a roomy car.
-Transmission.
The 5 speed auto is fine. Smooth , and pretty responsive. I just don't like these gated shifters. This is so "last century".
They just make no sense, dating back when manufacturers were all trying to copy Mercedes's weird idea.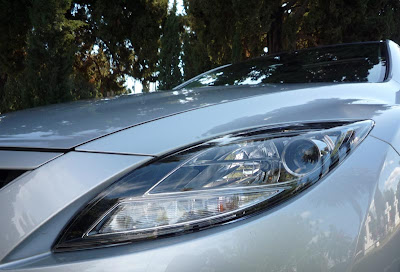 -SO?
I really enjoyed my time with the new Mazda6.
I loved he "old one". It was more special. It kind of had that "fit like a glove" feeling.
And the smaller engine had a really nice sound to it.
The new, much larger one seems like it should be a "Mazda7, or Mazda8.
So it is hard to recommend it to someone who does want something a bit sporty. And people looking for a luxury ride would do better with a Malibu.
I usually always recommend the smaller 4 cylinder engine over the larger, more expensive V6 option.
But in this case, I am not so sure. The buzz from the 4 could be annoying for some.
(I will be driving a V6 version soon and will report on that).
The model I was driving retails for $26 800 .
A Malibu LTZ is $27 500. A Camry XLE is $28 000. All with similar equipment.
It is pretty much a matter of choice.
The new 6 is a great looking car that will stand out in a sea of Accords and Camrys.
It feels very good to drive, if you don't mind a little more engine noise than in most of the competition.