Nissan Sentra. What the "other guys" have to say…
Last Updated:
I will be getting a Sentra to review next week. Also trying to get more cars in the same class to compare. Meanwhile, here is what some of "the other guys" are thinking…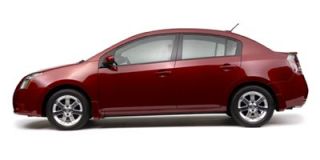 TheCarConnection.com's editors read the latest reviews on the new 2008 Nissan Sentra to write this comprehensive review. Experts from TheCarConnection.com also drove several different 2008 Sentra models, including the 2.0 L, SL, SE-R, and Spec V, and offer additional driving impressions and details to assist you in making the best choice in your next new car.
Likes:
Roomy, quiet interior
Stand-out styling
Huge glove box
SE-R and Spec V performance models
Fuel economy
Dislikes:
Only one body style: a sedan
Continuously variable transmission (CVT)
Inconsistent suspension performance
Performance models outgunned
The 2008 Nissan Sentra is no longer Nissan's smallest car for sale in the U.S. market. For Nissan, 2008 is the year the company introduces the Versa into a slot below the Sentra, making the Sentra more of a compact than a subcompact.