Nissan Maxima Test Drive.
Last Updated:
The new Maxima is definitely one of these cars that does look better in person.

It is a very impressive looking design, with plenty of personality.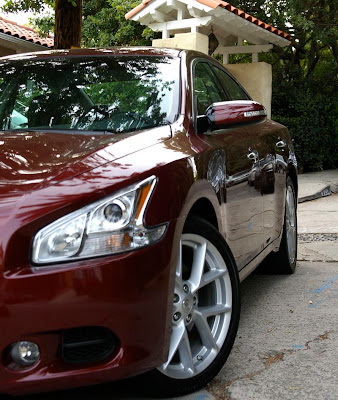 It doesn't look like a "big Altima" anymore. The previous generation did.

I did notice something I haven't seen for a while though: a couple of misaligned body panels. Nothing really serious, but just unusual. Where the front fender meets the door, and the rear trunk. Both slightly off…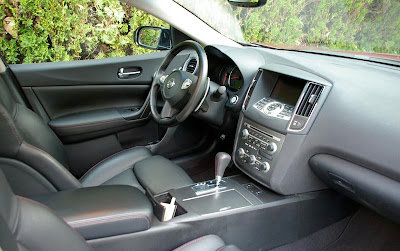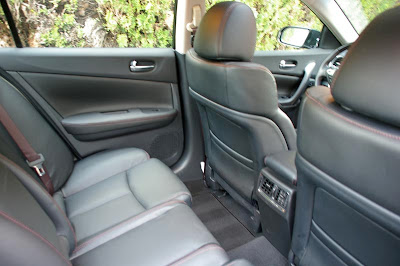 -HOW IT IS INSIDE.

The interior is basically a copy of an Infiniti interior. Not sure why they chose to do it this way, but that's pretty much what it looks like.

But unlike the real thing, the Nissan interior uses more cheaper hard plastic bits. It just looks very similar, but the Infiniti interiors do feel better.

The version I was driving was loaded, which made it even closer to an Infiniti. Same great iPod integration, rear view camera etc… Except the screen is smaller. And even the stereo was a Bose system, it didn't sound as good as the ones in Infiniti cars I drove in the past.

Another small annoyance was the fact that the key less start system couldn't tell I was carrying the key on me if it was in my back pocket. It kept reading "No Key". Weird…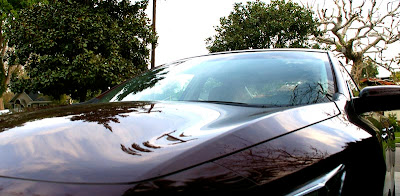 -HOW IT DRIVES.

-Ride

– The one I had was the SV (Sport) model. But the ride was just a bit firm, always very comfortable.

Much more like a luxury car than a sports car. Or even a 4DSC (4 door sports car) like the stupid sticker on the side window says.
-Steering.
the steering is way to soft for a Sport version of any car. It is way over boosted, and has this annoying video game feel to it.

I did get used to it after a while. But it never felt remotely sporty. If they have 2 versions of the same car, you would think the one labeled sport would have a much better steering feel than this.

It is closer to a Lexus that anything "sporty".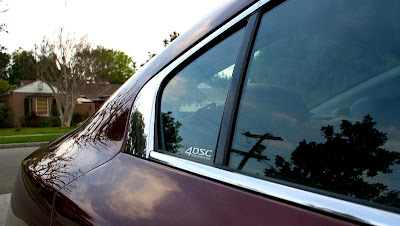 -Engine

Well, again, the 3.5 Liter V6 from Nissan shines. Smooth and powerful. 290hp is more than enough for any situation.

It is rated at 19City and 26 HWY.

During my week, I struggled to average a bit over 16 in the city. But I did reach 27.7 MPG on the HWY.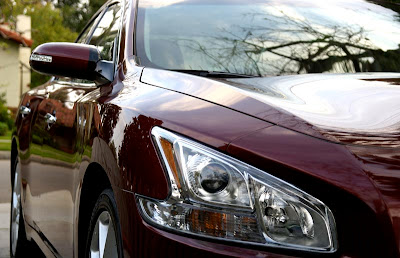 -Transmission.

Just like in the Murano, the CVT works great. It immediately gives you an extra 1000 RPM as soon as you push it a bit. Reacting faster than most regular automatics . It is a great transmission for this engine.

Which makes the car actually a bit sportier and much quicker to react than the 7 speed auto in Infinitis.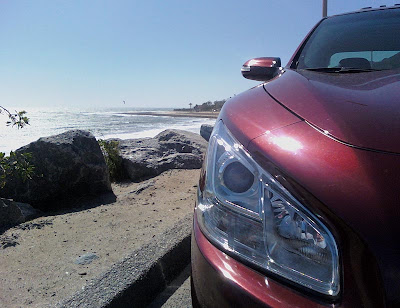 -SO???
The new Maxima is a really nice car. It looks great, and is very roomy (My Maxima/G35 back seat comparison is coming up soon).

But the soft steering makes it a much better choice as a luxury car than a sports sedan. I think the non SV Sport version is a much better choice.

This shouldn't pretend to be a sport sedan.

At $37 400 my car is less than $2000 away from a similarly equipped G37.

That's not enough of a difference. The car is indeed roomier than the Infiniti, but not that much.

I do think the Maxima looks better though. Even more upscale than the G37.
So it's really a toss up. A matter of choice and priorities.

Just don't expect a sports car, even if it has 290hp…