New Accord hatchback???
Last Updated: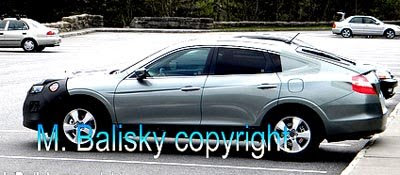 This car was caught by someone from the vwvortex forum (Click on the title for the link and more pics).
It doesn't look at all like the test mule they were driving around. The car was hidden as a wagon with much larger wheels etc…This looks like a straight hatch version of the Accord sedan.
Even the front end seems to be the facelift one we expect next year.
I do like hatchbacks, and big glass roofs. So I shouldn't say anything bad about this.
Still, it does look a bit big and heavy in the rear. Although not as horrific as the new BMW GT.


But the Euro Mazda6 Hatch is still much, much nicer looking…