New Chrysler ad
Last Updated: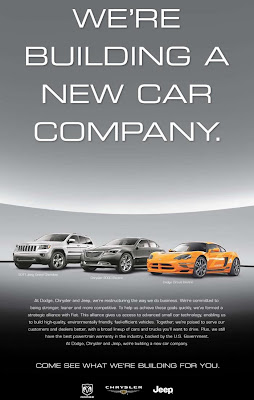 Or "avoiding the Bankruptcy word"…
The feature 3 new cars:
– The 2011 Grand Cherokee. A car that might have some problem being produced due to suppliers who are afraid of not actually getting paid. (Chrysler needs to tooling now in order to make the 2011 model year deadline)
-Chrysler 200C Concept. A concept. Just a concept… Nothing real.
-Dodge Circuit. An expensive Lotus based electric sports car that might be produced in limited numbers.
They can't even show us anything that could remotely turn the company around.
Sorry to say, but the money is (and has been for years) about mid sized sedans. Chrysler has nothing to show us except a Concept that might or not, be based on an upcoming Fiat/Alfa platform. That would take at least 2 years to come to life.
Meanwhile, almost everyone else has a decent mid sized sedan on the market. Right now…
Good luck…