Another "Buick Vue "picture
Last Updated: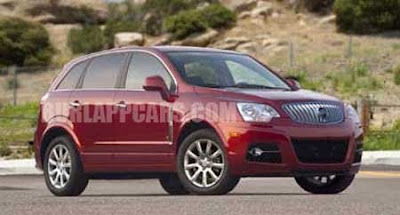 I think I posted this a while ago, but it turned out to be right.
So there it is, I'm posting it again…
And here is some of the PR BS from GM about it for your reading pleasure:
"Some customers who have been drawn to the Enclave were looking for something a little smaller, but they didn't want to give up craftsmanship or a quiet ride to get there," said Susan Docherty, general manager of Buick-Pontiac-GMC. "We believe this new Buick will excite those customers, and will continue to broaden the appeal of the brand."
The Buick crossover will be powered by an Ecotec 2.4L direct-injected four-cylinder engine with an optional 3.0L direct-injected V-6, and is expected to deliver 30 miles per gallon or more on the highway. Final fuel economy estimates, as well as additional vehicle details such as name and pricing, will be announced later.
The Buick plug-in hybrid is expected to be the first commercially available plug-in hybrid SUV produced by a major automaker.
The Buick plug-in hybrid has the potential to achieve double the fuel economy of comparably-sized SUVs on short trips. This significant boost is achieved by combining a modified version of GM's proven 2-Mode Hybrid system with advanced lithium-ion battery cells and charging technology developed for GM's Voltec system, which will debut in the Chevrolet Volt extended-range electric vehicle in late 2010.
The lithium-ion battery can be fully recharged in four to five hours by simply connecting the vehicle to any standard 110V household electrical outlet. By recharging rather than refueling, the Buick plug-in hybrid significantly improves fuel economy and reduces petroleum use. In early testing, the plug-in hybrid is capable of electric-only propulsion for more than 10 miles at low speeds.
On the road, GM's 2-Mode plug-in hybrid system can use any combination of electric or gasoline engine power to move the vehicle, depending on the driving conditions. This differs from GM's Voltec technology, which provides the Volt with up to 40 miles of emissions- and petroleum-free electric-only propulsion, and an overall range of more than 300 miles with its flex-fuel engine-generator.
In addition to the lithium-ion battery pack, the Buick plug-in hybrid's powertrain features two powerful electric motors, sophisticated electronic controls and battery management systems and an efficient direct-injected 3.6L V-6 flex-fuel engine."
There you have it…