Lexus LF-Ch Concept
Last Updated: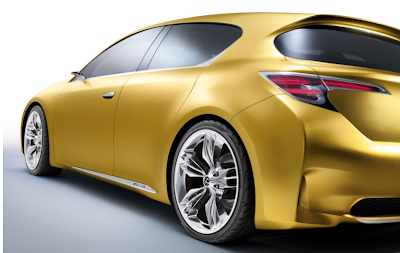 A stupid name.
Let's hope they call it something else when the production version comes out next year.
This seems OK, but Lexus has a horrible track record about turning their concepts into production cars.
Usually, a year later, the production model doesn't have much to do with what they teased us with…
We'll see:
Here are more fancy words from their PR department:
" Premium compact concept with Lexus Hybrid Drive
Practical 5-door body, meeting the core needs of customers in the premium compact market
Reinforcing Lexus' position as the only manufacturer to offer a range of hybrid vehicles, the LF-Ch concept will make its world premiere the 2009 Frankfurt Motor Show.
LF-Ch combines stylish design and full hybrid technology in a practical 5-door compact package to fulfil the needs of the most demanding premium compact segment customers.
Benefiting from an electric-only driving capability, a key feature of Lexus Hybrid Drive, LF-Ch will allow for virtually silent urban driving with zero emissions."