Kia K7, Amanti replacement
Last Updated: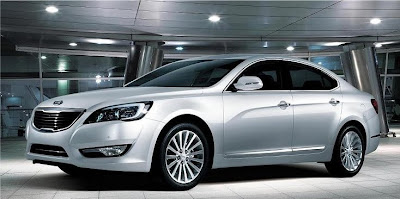 The Amanti was horrific looking when it came out, and it's not getting any better with age.
The replacement comes out in Korea next month.
We should be getting it over here in a few months.
It is now a really good looking car. Compared to what else you get in that segment.
It will be based on a platform that will also be used for the next Hyundai Azera.
Engine choices are, at least in Korea, the 2.4 Liter 4 cylinder with 200hp, or a 3.5 Liter V6 with about 280hp.
If image was no object, this could give quite a hard time to the Lexus ES or the Acura TL.
But image IS an object in the near luxury car market.
I'm not sure that many people will be trading in their Lexus models for a Kia.
But for people who wish they could get a TL or Es but can't afford one, it would work.
The old story of Hyundai and Kia….