2011 Cadillac CTS Coupe
Last Updated: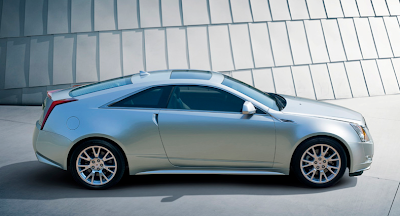 It has been a while.
I saw the concept at the Detroit show almost 2 years ago!
So Cadillac finally has a full line up with the CTS.
It is about as good looking as the concept.
We'll see how they price it. Hopefully bellow $40 000 to start.
Here is the official word:
"The CTS Coupe extends Cadillac's emerging performance credentials. The CTS Coupe's standard powertrain consists of a direct injected 3.6L V-6 and six-speed manual transmission. Direct injection technology delivers fuel more precisely to increase the efficiency of combustion, enabling more power while maintaining fuel economy and lowering emissions – including a 25-percent drop in cold-start hydrocarbon emissions.
The 3.6L DI engine is rated at 304 horsepower (227 kW) and offers EPA-estimated fuel economy of 27 mpg on the highway. It also runs on less expensive regular unleaded gasoline.
The powertrain's performance is channeled through a chassis that delivers sports car performance without punishment. The hardware includes an independent short/long arm (SLA) front suspension system, with hydraulic control arm front bushings; and a multi-link rear suspension mounted on a fully isolated subframe. Also included are four-wheel disc performance brakes, premium steering and limited-slip differential.
Two suspension-tuning levels are available: a Performance Package with 18-inch wheels and all-season tires (available in both RWD and AWD,) and the Summer Tire Performance Package, with 19-inch tires and wheels and a higher level of road holding capability. StabiliTrak, the advanced electronic chassis control system, is standard.
The 304-horsepower (227 kW) 3.6L V-6 Direct Injection engine will be standard, equipped with a six-speed manual, featuring a revised clutch and dual-mass flywheel that offers better clutch pedal feel and improved engine isolation. A 6-speed automatic transmission with Driver Shift Control (and available steering wheel mounted shift buttons) is optional
CTS Coupe blends handcrafted luxury with a contemporary, driver-focused interior that supports the car's high-performance capabilities. The interior includes hand-sewn accents covering the door, center storage console and instrument panel trim. 14-Way adjustable Recaro sport seats, previously exclusively offered on Cadillac's V-Series model, will be offered on all CTS Coupe models as an option.
The car offers a host of advanced technologies, including:
Integrated iPod/MP3 capability
40-gig hard drive, including the ability to store music and pause-and-replay live radio
Pop-up navigation system
Adaptive forward lighting system
Bluetooth connectivity
Standard Keyless Access and Smart Remote Start
Rear Camera system
Bose 5.1 Cabin Surround audio system"