2011 US version of the Chevrolet Cruze
Last Updated: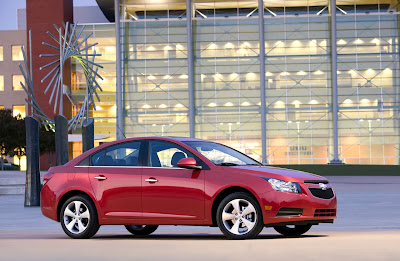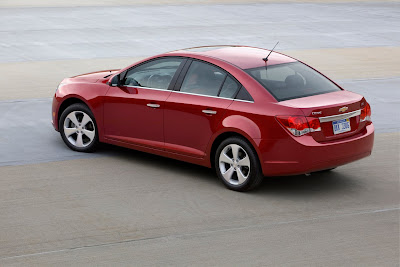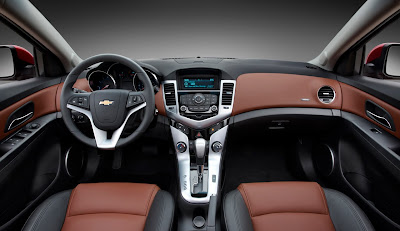 Finally.
After being sold pretty much everywhere else. Here is the official US version of the Cruze.
But wait. It is still almost a year away!
The exterior is fine, but the interior seems great.
By that time a new Civic will be just around the corner. And a new Focus might even be out.
Here is what GM has to say for themselves:
– Popular global car refined for America
– Expected segment-best fuel economy – up to 40 mpg highway – with new family of small-displacement engines, including Ecotec 1.4L I-4 turbo
– Progressive design with exceptional levels of refinement, quietness and build quality
– More spacious interior and greater cargo room than Honda Civic and Toyota Corolla
– Ten standard air bags help make it one of the safest cars in its class
– Built at Lordstown, Ohio assembly plant
– On sale in third quarter of 2010
– Five-year/100,000-mile powertain warranty – the best coverage in America
"The Cruze also affirms Chevrolet's commitment to building refined, fuel-efficient vehicles, with new, small-displacement four-cylinder engines. It is expected to deliver segment-leading fuel economy with a new Ecotec 1.4L I-4 turbo with variable valve timing – including up to 40 mpg on the highway with a high-efficiency model.
"Cruze is already a hit across Europe and Asia; and now, it's coming to America to challenge the status quo," said Brent Dewar, GM Vice President, Chevrolet Global brand. "Along with the Volt electric vehicle, Cruze is the latest tangible example of how Chevrolet is working on exciting products that range from gas-friendly to gas-free."
Leveraging Chevrolet's design and engineering talent in Asia, Europe and North America, the Cruze brings to market a progressive, globally influenced design complemented by exceptional levels of quietness, quality and attention to detail – from precise tolerances between body panels to the use of premium materials throughout the interior.
"The amenities, quietness and roominess you expect in larger cars are what the Cruze delivers," said Margaret Brooks, Chevrolet product marketing manager. "This is a car that will shake up the compact segment, with a more spacious interior and more cargo room than the Honda Civic and Toyota Corolla."
Cruze goes on sale in the U.S. in the third quarter of 2010 but has already logged more than 4 million miles in quality and durability testing worldwide, making it one of the most real world-tested GM products prior to a U.S. launch. The U.S. and Canadian versions of the Cruze will be built in Lordstown, Ohio, where $350 million was invested for their production."