2011 Toyota Sienna
Last Updated: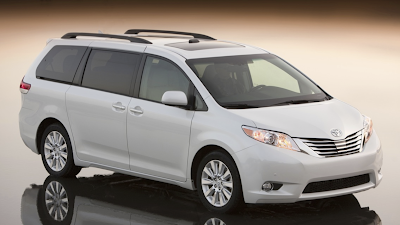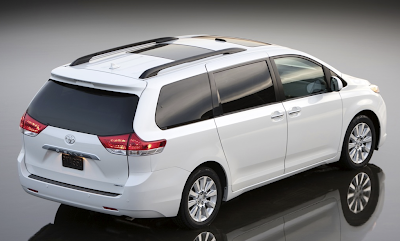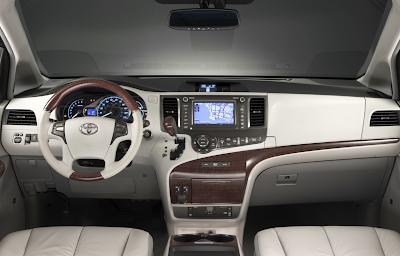 Looks to be just about 1% more stylish than the present model.
Just a few Venza touches here and there. I especially love how Toyota uses the term "visually intriguing".
It also displays what maybe the fakest looking wood trim in the business.
But I'm sure it'll do well with the intended market.
Here is what they say:
"Visually Intriguing
The Sienna will come in five conveniently configured grades, all sharing a distinctly new
visual direction and features. The third-generation Sienna explores a more modernly advanced
and bold design. The sportier profile is complemented with distinctive window shapes. Working
closely with engineering, Sienna designers were able to create a high and wide shoulder to
embed a deliberately hidden door slider within the window graphic.
The strong high shoulder and distinct fender flares visually emphasize the wheels.
Dimensionally, the new Sienna rides on the same wheelbase as the prior generation, but it is
wider and slightly shorter overall.
In the front is a bold face design. Sophisticated headlamps angled higher than the grille
lends a confident front presence. The sculptural rear corner separates the Sienna from boxy
minivans as it surrounds the functional yet elegant LED taillights.
The interior features upscale quality and elegance, yet every element are logical and
functional. The distinctive swept shape of the IP creates the perception of increased personal
space for both driver and passenger. Careful attention to the details adds extra value to each
component. Sleek seat designs add flexibility and roominess while central climate and audio
controls are integrated into a single graphic element.
Overall, the new Sienna has a sportier, classier appearance. A Cd of 0.306 is the result
of careful design work and is a contributing factor in maintaining a quiet cabin and providing
excellent fuel economy. "