More on the new 2011 Cadillac CTS-V Coupe
Last Updated: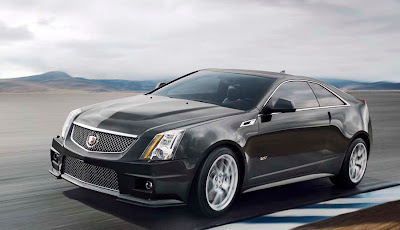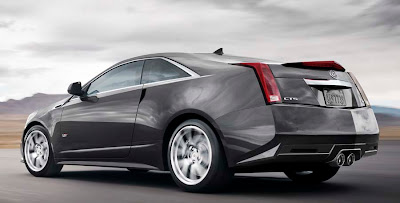 And more pictures too, where it looks pretty stunning.
The extended brake light/rear deck spoiler is a cool idea. But I'm not sure how practical it is.
It could easily get damadged. And how awkward is it to open that small trunk with this thing sticking out…
Still. A really good looking car.
Here is what they say :
"Art And Science: Cadillac Premieres 2011 CTS-V Coupe
-New CTS Coupe design combines with V-Series performance
-556-hp (415-kW) supercharged 6.2L V-8
-Six-speed manual or six-speed automatic with paddle shift control
-Magnetic Ride Control and Brembo brakes
-New Saffron interior trim accent color
-On sale in early summer
"The CTS-V Coupe marries our most potent and sophisticated technology with our most dramatic production design," said Bryan Nesbitt, Cadillac general manager. "This combination of visual and technical attributes is designed to create a very compelling choice for luxury sports car consumers."
The CTS-V Coupe begins production this summer. Its suite of technical and performance elements includes Magnetic Ride Control, racing-bred Brembo brakes and an available automatic transmission with paddle-shift control.
The V-Series Coupe includes a unique grille that doubles the car's air intake volume, an important enabler for its high-performance capabilities. It is also visually identified by a raised center section of the hood that provides clearance for the supercharger, as well as specific front and rear fascias. Like the CTS Coupe, its exhaust is centered inside the rear fascia, but with unique twin outlets. The car rolls on 19-inch cast aluminum wheels, available in either painted or polished finishes, and Michelin Pilot Sport 2 performance tires.
The CTS-V Coupe's rear track is nearly an inch wider than the CTS-V Sport Sedan, adding to the car's aggressive stance and enabling an extra measure of handling capability. The current CTS-V Sport Sedan has quickly established itself among the world's highest performing luxury sedans, becoming the first production four-door on street tires to break the legendary 8-minute barrier at Germany's famed Nürburgring. The new V-Series Coupe's sleeker shape and slightly lower mass ensure a similarly high level of performance.
Inside, the 2+2 cabin combines performance and luxury. A new Saffron interior trim color is offered, with contrasting microfiber seat inserts and stitching on the upper trim areas."
The CTS-V Coupe employs the LSA 6.2L supercharged V-8 engine also found on the CTS-V Sport Sedan. Rated at 556 horsepower (415 kW) and 551 lb.-ft. of torque (747 Nm), it is the most powerful engine offered in Cadillac's history and propels the CTS-V Coupe from 0-60 mph in 3.9 seconds.
A pair of six-speed transmissions is offered in the CTS-V Coupe: a Tremec TR6060 six-speed manual with a dual-disc clutch and a Hydra-Matic 6L90 six-speed automatic with paddle-shift control. Performance Algorithm Shifting is part of the 6L90's programming and provides a performance-oriented shift pattern during sustained high-performance driving. As with many Cadillac models, the driver needs only to slide the shifter into the manual "gate" to put the transmission into that more aggressive mode.