Nissan Skyline 2.5 Liter GT coming to the US
Last Updated: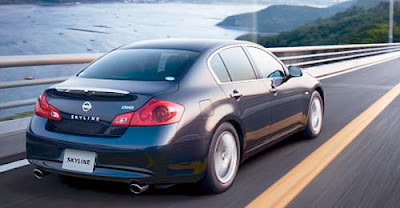 And of course, it will be the Infiniti G25 here.
The 2.5 Liter is good for 225hp in Japan.
But the US is scheduled to get a Turbo version of that engine. Which could be up to 280hp.
That is plenty.
For a few years now I've been complaining about engines getting bigger and bigger in order to produce more power most of us will never use.
Very few people actually use the "over 300hp" the Infiniti produces in the US. Slightly less power and better MPG is what we need in the 21st Century. There are now smarter ways to produce more power than making bigger engines.
I loved pretty much all the Infiniti models I was lucky enough to test drive.
But they all used "a lot of gas". More than most of the competition.
I think the 2.5 Liter is a great addition and shows that Infiniti listens.
So far it will only be available in the sedan. But I predict with it's lower price, it will quickly become the best seller of the G series and will be fitted into the coupe soon after.