2011 Hyundai Sonata prices
Last Updated: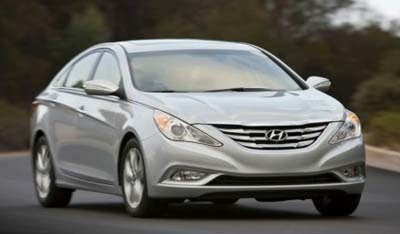 It will start at $19 200 for the "base" GLS model with a 6 speed manual.
It includes a 198hp 2.4 Liter engine.
As well as Bluetooth, keyless entry among other things.
Here are the other models:
-GLS 2.4-liter GDI I4 Six-Speed A/T $20,195
-GLS with Pop. Equip. Pkg. 2.4-liter GDI I4 Six-Speed A/T $20,945
-GLS with Pop. Equip. Pkg. + Navi. 2.4-liter GDI I4 Six-Speed A/T $22,645
-SE 2.4-liter GDI I4 Six-Speed A/T $22,595
-SE with Navi. & Sunroof Package 2.4-liter GDI I4 Six-Speed A/T $25,195
-Limited 2.4-liter GDI I4 Six-Speed A/T $25,295
-Limited with Navi. Pkg. 2.4-liter GDI I4 Six-Speed A/T $27,395
And some of the official words:
"Hyundai is the most fuel-efficient car maker in the U.S., and its commitment to continued fuel economy leadership is evident in the all-new Sonata. It has a best-in-class 35 mpg highway fuel economy rating thanks to a new 2.4-liter Gasoline Direct Injection (GDI) four-cylinder engine, new six-speed manual and automatic transmissions and highly refined aerodynamics. In addition to the advancements in fuel economy, the GDI engine produces a standard 198 horsepower, surpassing Honda Accord, Toyota Camry, Nissan Altima, Chevrolet Malibu and Ford Fusion. The Sonata GLS manual has best-in-class overall fuel economy with a 24 mpg city/35 mpg highway fuel economy rating, with all other Sonata models achieving 22 mpg city/35 mpg highway.
The all-new Sonata raises the bar when it comes to features and technology offered within the midsize car segment. In addition to standard XM Satellite® radio, the Sonata boasts segment-first standard Bluetooth® hands-free phone system, available HD Radio Technology™ with multicasting (allowing the broadcast of alternative side-band content on HD stations) and heated front and rear heated seats. The Sonata is the first vehicle in its segment with advanced touchscreen navigation available on all trim levels. At $22,645, the Sonata GLS with the Popular Equipment Package + Navigation is the lowest priced midsize sedan with navigation. All navigation systems also include a 90-day complimentary subscription to real-time XM NavTraffic®, XM NavWeather®, XM Sports Ticker and XM Stock Ticker.
The 2006 Sonata was the first popular midsize car to offer standard Electronic Stability Control (ESC) and six airbags. The 2011 Sonata builds on this leadership, with exceptional standard safety features including front driver and passenger airbags, front seat side impact and curtain airbags, ESC and Traction Control System (TCS), Antilock Braking System (ABS) with Electronic Brake-force Distribution (EBD), front active head restraints, Tire Pressure Monitoring System (TPMS), and a Bluetooth® hands-free phone system.
While Sonata will compete for customers against cars like Honda Accord, Toyota Camry, Ford Fusion, Nissan Altima and Chevrolet Malibu, Sonata's performance capabilities, craftsmanship standards and luxury features were benchmarked against vehicles from Audi, Mercedes-Benz and Lexus. In true Hyundai fashion, Sonata makes a premium driving experience accessible to a wide range of customers, delivering the kind of value equation American car buyers have come to expect from Hyundai."
I will be getting the new Sonata for a "Burlapp Test drive" soon.