$25 280 for the Nissan Leaf
Last Updated: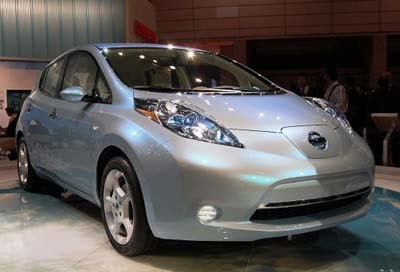 That's actually after the $7500 federal tax credit.
MSRP for the car is $ 32 780.
Or you can lease it for $349 a month.
I think these are great prices. For a car that, like it or not, is truly a milestone in the automotive history.
After the tax credit, it is actually a great price for any car. The base model even includes Navigation and Bluetooth.
The big drawback is the 100 miles range. But it still would make a perfect 2nd car for someone who doesn't work too far from where they live.
Most people I know never drive more than 50 miles a day anyway.
This is definitely not a car for everyone, but I am sure it will sell out no matter what.
Here is more from Nissan:
Nissan North America, Inc. (NNA) today announced U.S. pricing for the 2011 Nissan LEAF electric vehicle, which becomes available for purchase or lease at Nissan dealers in select markets in December and nationwide in 2011. Nissan will begin taking consumer reservations for the Nissan LEAF April 20.

Including the $7,500 federal tax credit for which the Nissan LEAF will be fully eligible, the consumer's after-tax net value of the vehicle will be $25,280. The Manufacturer's Suggested Retail Price *(MSRP) for the 2011 all-electric, zero-emission Nissan LEAF is $32,780, which includes three years of roadside assistance. Additionally, there is an array of state and local incentives that may further defray the costs and increase the benefits of owning and charging a Nissan LEAF – such as a $5,000 statewide tax rebate in California; a $5,000 tax credit in Georgia; a $1,500 tax credit in Oregon; and carpool-lane access in some states, including California.

As a result of aggressive pricing and the availability of the $7,500 federal tax credit whose benefit is immediately included, Nissan will be able to offer a monthly lease payment beginning at $349, not including state or local incentives, which could further reduce the net cost of the Nissan LEAF.

"Imagine the possibility of never needing to go to a gas station again. Or of paying less than $3 for 100 miles behind the wheel. Or of creating zero emissions while driving," said Brian Carolin, senior vice president, Sales and Marketing, NNA. "Nissan leads the industry by offering the first affordable, zero-emission vehicle for the mass market. Nissan LEAF truly is in a class by itself."

The vehicle at the SV trim level is well-equipped with a variety of standard features, including an advanced navigation system and Internet/smart phone connectivity to the vehicle, enabling pre-heat/pre-cool and charging control. Nissan LEAF is equipped with energy-efficient LED headlights and makes extensive use of recycled and recyclable materials, such as seat fabric, instrument panel materials, and front- and rear-bumper fascias. Other standard amenities include Bluetooth connectivity; Intelligent-key with push button start; Sirius/XM satellite radio capabilities and roadside assistance. Safety features include vehicle dynamic control (stability control), traction control and six airbags. The SL trim level, available for an additional $940 (MSRP), adds features including rearview monitor, solar panel spoiler, fog lights, and automatic headlights.