2012 Chevrolet Cruze Coupe
Last Updated: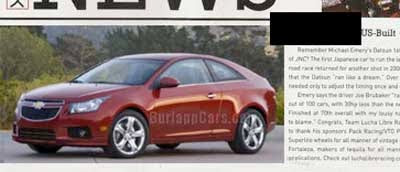 Not sure if this is the real thing or not. But it does seem pretty good.
I am pretty sure GM is working on other versions of the Cruze.
Like a coupe or hatchback.
The Kia Forte is already available as a sedan and a coupe. And a hatchback is coming soon.
The next Focus will be available as a hatch and sedan at launch. And a coupe is coming later.
The Cruze will face stiff competition if they only have a sedan to battle the whole compact world…