New Infiniti DX based on next Mercdes B Class???
Last Updated: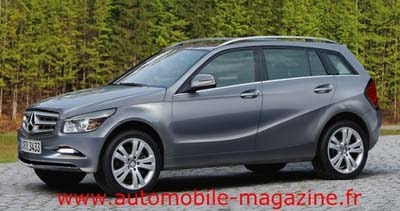 That is a new rumor from France.
Nissan would use the redesigned B Class for a small Infiniti Crossover called the DX.
It does sound crazy at first. The current B Class uses a bunch of small 4 cylinder engines and some diesels.
But it also makes sense.
Infinitis usually get terrible mileage from their big 3.7 Liter engine.
And new regulations will be very tough on them.
They do need to use more efficient engines, soon. The 1st step is the upcoming 2.5 Liter version of the G sedan.
I guess the DX is next.
I just hope the B class doesn't end up looking like this horrible illustration above.
And also, that Infiniti does come up with their own design for the car…