Mazda 6 V6 Grand Touring Test Drive
Last Updated:
There is no doubt, the Mazda6 is one of the best look midsized sedan available in our market.
Although since it came out, we have seen an all new Sonata, and a new Malibu and Kia Optima are on their way.
Competition will be even tougher.
It is still a much nicer design than the Camry and especially the 2011 Accord. At least in my opinion, and I am a highly regarded car genius…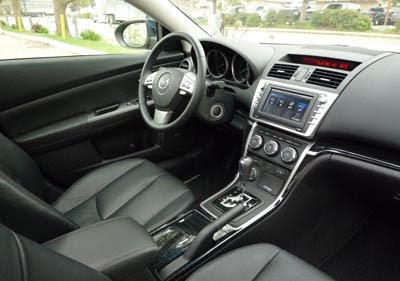 -HOW IT IS INSIDE.
Again, one of the nicest interior in the class.
It is classy, subtle yet modern, and everything is of high quality and very well put together.
And the glossy black finish on the dash (In my black leather interior) is a nice change from the wood finish we see everywhere.
My test car was a loaded model that came with pretty much everything you can imagine.
Except a few things…
The wonderful 10 speaker Bose sound system does not include iPod integration. Just a regular AUX plug.
Something much cheaper cars do have.
And even though there is a navigation system, there is no back up camera. Something the Rogue or the Taurus have integrated into the rear view mirror.
And most GPS systems now have it.
A bit weird for a $33 000 car.
The doors sound really solid, which is always a great feeling. Not sure why, but it is something I always notice.
It bugs me when it sounds cheap (like in the Taurus).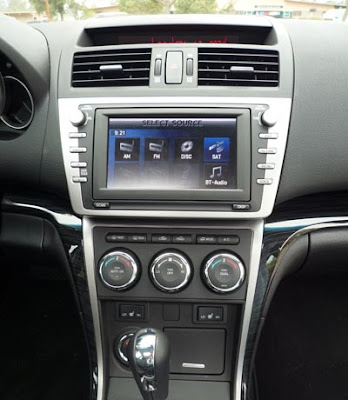 The GPS works fine, but there is no hood over it. And it's not receced at all, so it often becomes very hard, or even impossible, to read while driving.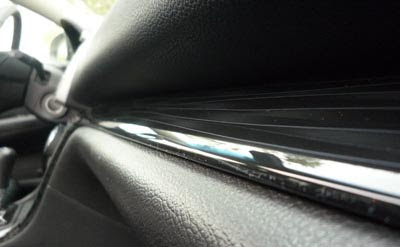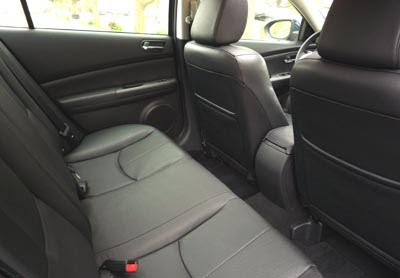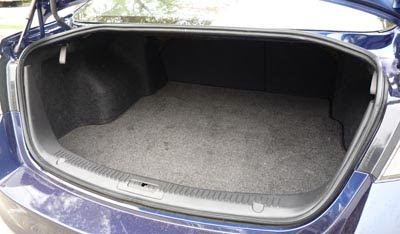 The seats are very comfortable and roomy, front and back.
And as you can see, the trunk is pretty huge.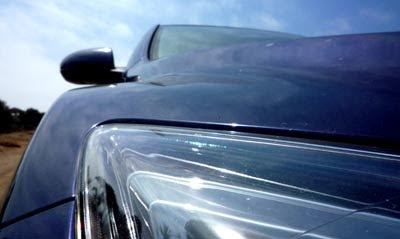 -HOW IT DRIVES.
-Ride.
The Mazda 6 rides pretty much like a luxury car. More than a sport sedan.
Which makes me wonder where is that famous "Zoom Zoom". It feels more like a Camry.
Which is fine. If you want a Camry.
I think the Mazda should not be afraid of being a bit sportier.
I also noticed quite a bit of road noise at freeway speed. I did notice it because the car felt so quiet and luxurious around town, it seemed a bit out of character.
-Steering.
The steering was very light. With almost no feel at all.
Which again is not what Mazda seems to be advertizing . I was expecting something, again, a bit sportier.
I was driving a Buick Lacrosse a few days earlier, and the steering in that car was much, much sportier and satisfying.
And I also noticed that little vibration in the steering over certain road irregularities.
It is very hard to notice, but I do. The only other cars I have that similar experience with were the Lexus RX and ES.
A strange annoyance once you notice it.
-Engine.
The big 3.7 Liter V6 is quiet and smooth at all time. And with 272hp, there is always plenty of power.
Although it didn't feel as quick as the 3.6 Liter in the Lacrosse.
Mazda claims 17 MPG City and 25 Hwy.
I matched the City number, but was able to get 30 MPG on the freeway.
-Transmission.
It does it job. Which means the 6 speed auto is mostly invisible.
Again, more in tune with a luxury car.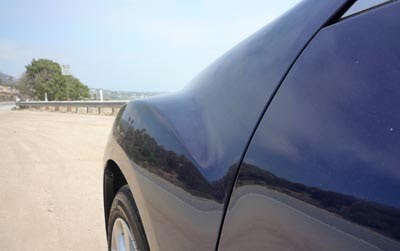 -SO???
I was left a bit confused by my weekly dive in the V6 version of the Mazda6.
I do think it works better with the cheaper 2.5 Liter engine.
Even though the 2.5 Liter isn't as smooth and quiet as most other 4 cylinder engines out there..
The MSRP of $33 000 on my test car is pretty high.
Almost $5000 more than a loaded Sonata.
And even $1500 more than a loaded Altima V6.
The Mazda 6 V6 is a really nice car. But it doesn't seem to know what to be.
It's not really a luxury car, and it definitally not sporty.
It sits in a weird spot, and needs to make up its mind…