2011/12 VW Golf Cabrio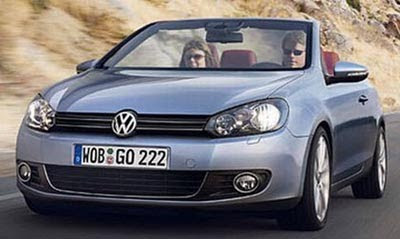 There has been rumors for years about a new Golf Cabrio.
But now, VW has announced this:
"Over the decades, some of the most beautiful models in the automobile world have left the assembly line in Osnabrück. We will be carrying on this tradition from 2011 with the new Golf Cabrio.
The capacities and specialist skills available here are very valuable for our Group. We will be creating a total of 1,800 jobs at Volkswagen Osnabrück by the end of 2011. Osnabrück will therefore remain a high-performance automobile location in our Group alliance going forward."
So the new Cabrio is coming.
Not sure if VW really needs that many convertible models.
The Eos will stay the most expensive, starting at over $32 000.
The next Beetle convertible will be slightly less expensive than the current one, which still means around $26 000.
So I guess the Golf Cabrio will be even cheaper.
A regular Golf, in the US , starts at around $18 000. Adding about $6000 still makes it about $2000 cheaper than the Beetle.
Not sure f that will be enough of a difference.
I think a new Cabrio should start at around $22 000/$23 000. Making it a truly affordable 4 seater convertible.
Something we haven't seen for a while.