2012 Honda Civic Concept
Last Updated: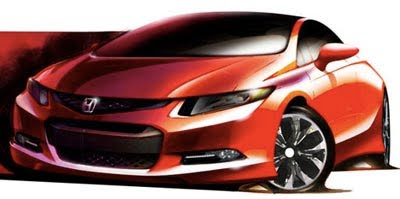 Yeah right…
From what we've all seen before (actual spy pics), this overly optimistic illustration looks a million times better than the real 2012 Civic coupe.
The usual.
The "concept" will be shown in a few weeks at the Detroit Auto Show.
With a production model being introduced a short time later.
They did the same thing with the current generation Civic a few years a go.
That concept turned out to be almost exactly the same as the production Coupe.