Lexus CT200h US price
Last Updated: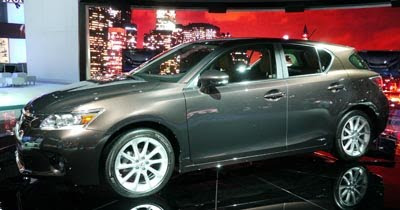 The all new Lexus Hybrid will start at $29 995, including destination.
Which isn't bad. After seeing it, I can say this is one of these cars that does look much better in the flesh.
A "Premium" model will be $31 775. It includes Moonroof and Heated seats.
Options are:
-Premium Audio Package : $1125 (add $300 for a backup camera)
-Navigation Package : $2445. (It requires the Audio Package.)
More options are available like real leather (standard is what they call "NuLuxe' fake leather), LED headlamps etc.
It is rated at 43 MPG City and 42 HWY.
The main competition in the US seems to be the Audi A3 TDI. Which starts at about $31 000.
The TDI feels much sportier than any hybrid, but city gas mileage won't match the Lexus.
But it will get better than 42 HWY. I got over 50MPG in the Golf TDI I test drove a few months ago.
It'll be interesting to see how it goes…