BMW 5 series GT :"Disappointing"
Last Updated: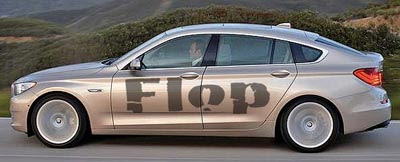 Really?
What a surprise!
Turns out the ugliest BMW ever isn't selling well. Who would have thought????
They expected to find between 4000 and 8000 buyers a year for the heavy handed and clumbsy looking hatchback.
First year sales were about 2800, and on its way to around 2100 for this year.
I do love hatchbacks, don't get me wrong. Audi has shown how a luxury hatch should look like with their stunning A7. And the smaller A5 Sportsback.
But the 5 series GT is one odd and heavy looking beast. Pretty much every one was wondering what BMW was thinking when they introduced it.
I guess that means we might be getting the good looking new wagon over here after all….