GMC Terrain test drive.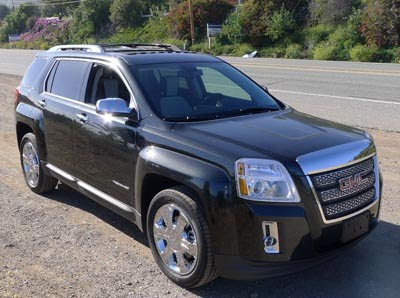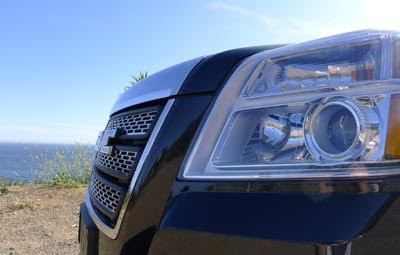 -THE LOOK.
The Terrains's blocky design is not for everyone.
I really didn't like it when I saw the first pictures of it, back when it was introduced.
Although I am still not crazy about it, I've grown to recognize a certain personality to it.
It does stand out more than its Chevrolet .
And it looks larger than it is. Which is only 7 inches more than a CRV.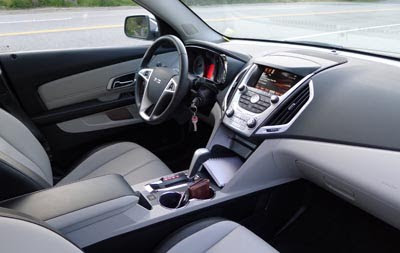 _INSIDE.
The interior is quite another story.
It doesn't really match the squared off exterior.
It is really appealing and quite modern. Almost futuristic in some details.
Most plastics are of good quality, and many are soft to the touch.
Everything has a solid feel to it.
My test car was equipped with the optional Navigation/Audio system. Everything sounded very good and was easy to use.
The seats are comfortable, as well as good looking. And the rear passengers have plenty of leg room.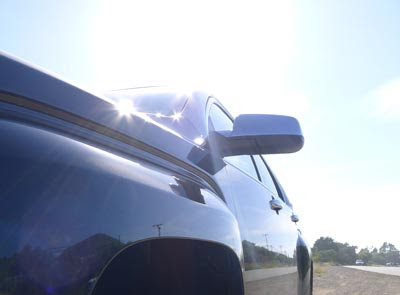 -THE DRIVE.
.Ride/Steering.
The ride is a bit firm. In a good way. Never harsh and always comfortable. At least for my taste.
The steering in my V6 test car felt very good and surprisingly firm. Which is getting rare in a world of over boosted units.
But at the same time, I could feel some very small vibrations. Like in the Lexus RX and ES.
I am icky and most people might not feel it. But it's there and a bit annoying once I noticed it…
-Engine/transmission.
These two are the worst part of the GMC Terrain.
The 3.0 Liter produces 260hp. But they all seem either very shy, or absent.
Either way, it just doesn't feel like 260hp. At all…
You have to push it a lot to go anywhere, and when you do, the transmission revs up the engine pretty high, above 5000rpm, but not much is going on.
And that transmission isn't very smooth either.
One of the rare time where I actually noticed shifting. Quite a bit.
I actually thought my test unit had the 2.4 Liter. But it didn't.
The V6 Terrain is rated at 16/22.
I did get 16 in the City. Driving like a grandmother. But did get 24 on the highway.
Not good numbers by any mean. Especially for a car that doesn't feel quick at all.
-SO?
The GMC Terrain could be a much better car with a different engine/transmission combo.
Maybe the smaller 2.4 Liter is better. If you expect less.
And the gas mileage on the V6 is pretty bad. But I didn't really expect any car with such a blunt front en would get amazing numbers on the freeway either…
My loaded test car was $38 000. (The SLT2 model starts at $31 400).
Which seems very expensive to me.
Sure, it had AWD, Navigation. Plus things I would never get, like a $1300 DVD player for the back seats. Or $900 chrome wheels.
It is roomy, comfortable and solid, with a very nice interior.
But I also think it is overpriced.
There are many choices around these days. Including the Ford Edge. Which is priced similarly.
But if you don't mind something a bit smaller, a loaded Kia Sportage is a great choice. For almost $8000 less.