Chevrolet Tahoe Hybrid test drive.
Last Updated: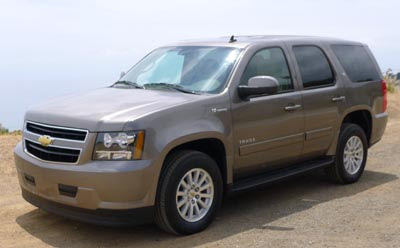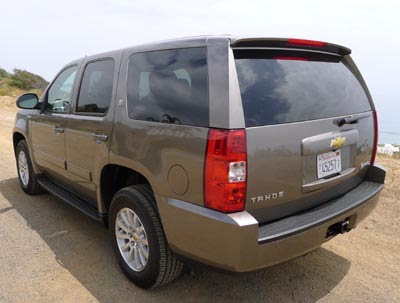 -HOW IT LOOKS.
The Hybrid version of the Tahoe pretty much looks the same as the regular model that came out in 2007.
Which is to say, pretty nice for a truck.
The front end has been revised a bit since, with deeper front spoiler on the Hybrid. And different wheels.
Plus, of course, huge "Hybrid" logos.
It does have a much more refined look than the previous generation. And after 4 years, it still looks good.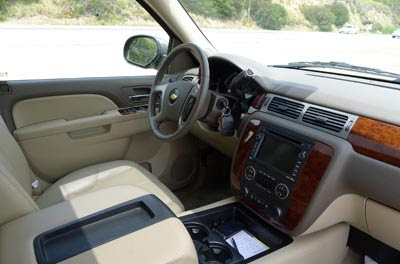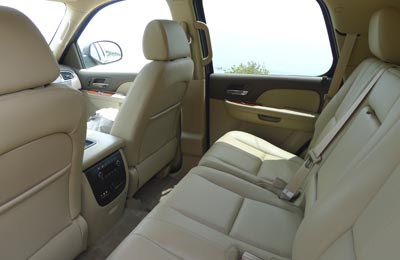 -HOW IT IS INSIDE.
I remember thinking the new Tahoe had one of the best GM interiors, back when it came out.
It still looks fine. But most plastics are still hard to the touch. And most new GM interiors are better now.
It now has more of a 90's GM feel to it. And it lacks some of the conveniences many cars have these days.
Like auto up windows. Telescopic steering wheel. Or keyless ignition.
Some people might say it's OK in a truck. A truck doesn't have to be a luxury car.
Which is true. But my test model was about $56 000. Quite an expensive truck…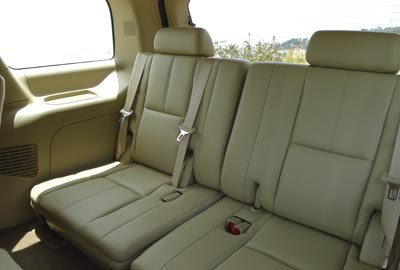 The Tahoe is very roomy, front and back. And even the 3 row is fine.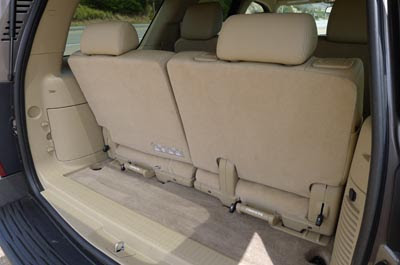 It is still one of these cars where you have to choose between filling it up with people, or stuff.
With the 3 rows up, there isn't much room for anything in the trunk.
I guess that's why they have the even longer Suburban…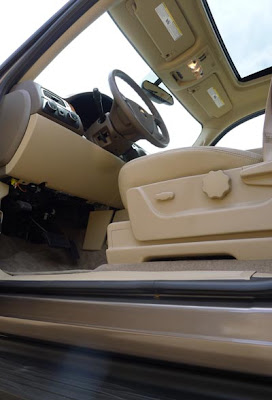 Not being used to driving big trucks, it felt like quite a climb to get into the seats. My shorter friends really had trouble.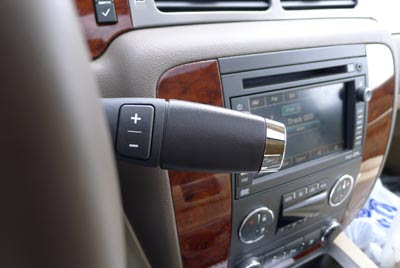 One thing I don't get is the column shifter.
I know it is part of the "truck experience" (for some), but in a car with no bench seat, there is just no reason for it.
The huge center console has plenty of room for a shifter there.
Plus, it does block the way to the stereo system from the driver seat. It just sticks out way too much.
Even the Ford F-150 Pick-up truck offers a more modern shifter on the console…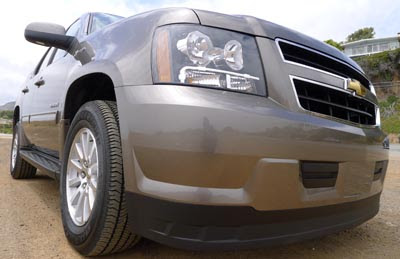 -HOW IT DRIVES.
.Ride and steering.
The Tahoe rides great. Sure, it still feels a little trucky. There is always a little bit of motion, but it is very comfortable.
The steering is light, but very precise and always feels really good.
.Engine.
This is the main course. How does the Hybrid perform?
I have to say this is one of the quietest car I have ever driven. It sounds great at any speed. Whenever you can actually hear anything that it. It is an extremely refined powertrain.
I was able to reach about 25MPH on electric alone. Which isn't bad for such a heavy beast.
The engine is so quiet, it is hard to tell when it is actually on.
GM claims 20 MPG in the city and 23 HWY.
I got 20/26. Which is a bit better.
And actually really good for something that size. Or even smaller.
These are better numbers than what I got in the Infiniti FX, EX, GMC Terrain. And I did better in the city than a Kia Sportage.
I would say the gas mileage in pretty amazing for what it is. A big truck capable of carrying 7 people in total comfort.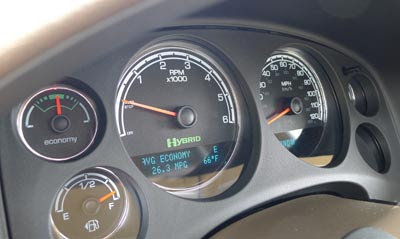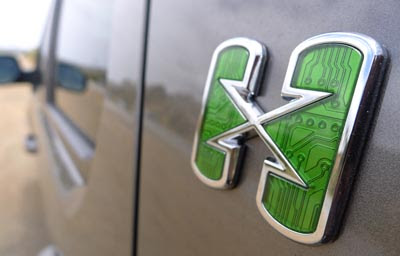 -SO???
The Tahoe Hybrid is like a guilty pleasure. I almost hate admitting I enjoyed it. But I did.
And pretty much everyone who got to ride with me in my week long test.
It is really big, but very easy to drive. And the gas mileage is actually good.
But… It is quite pricey. My loaded 4WD model was $56 540. Sure, you could save a couple of thousands by skipping the 4WD.
Still…
It now faces some competition from the VW Touareg Hybrid. Sure the $60 000 VW is even more expensive, and does not seat as many people.
But most might not need to. And the interior refinement of the new Touareg is pretty much unmatched for the price.
"Cars direct" has about $4000 off on the Tahoe Hybrid right now. Plus, the Hybrid is actually less than $2000 more than a loaded LTZ model. Which only gets 15/21 MPG
It is really a great truck, even for people who are not used to trucks.
I enjoyed driving it much more than the Traverse.
I think the next generation might address all the small shortcomings of the current model. And be even more efficient.