R.I.P: Nissan Altima Hybrid
Last Updated: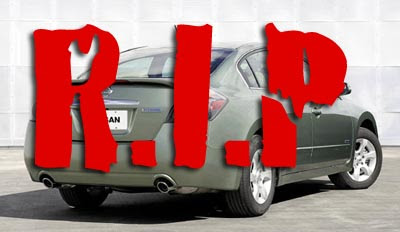 back when Toyota came out with the Hybrid version of the Camry. An Altima Hybrid sounded like a great idea.
Even if it used Toyota technology.
I test drove one a while ago and was very pleased with the car. I even averaged much more than the official numbers, almost 40MPG after a week of mixed driving.
But the car was never a big hit for Nissan.
Plus, the next Altima is due next year. So 2012 might be the last year for the current generation Altima anyway.
With the new Infiniti M Hybrid, Nissan has shown it now has its own Hybrid technology.
Which the next generation Altima Hybrid will be using.
And it will get even better numbers. It will have to.
New rumors are already circulating about the next generation Fusion Hybrid getting 48MPG…