Nissan Cube Test Drive.
Last Updated: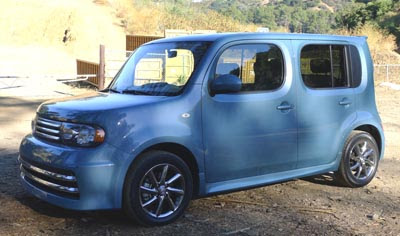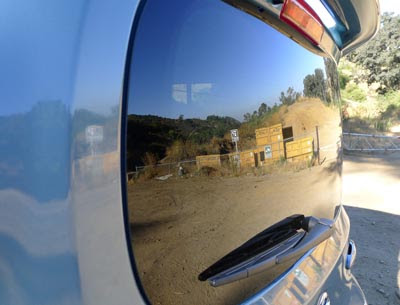 -HOW IT LOOKS.
I couldn't think of a better name. It does look almost exactly like a cube. And that's why people would end up calling it anyway.
I still like the previous version better. The one that was never sold in the US.
A more original design. Which is the case with many new Nissan designs. Like the Infiniti G, or the Z.
No matter what, the Cube does stand out. In a fun way.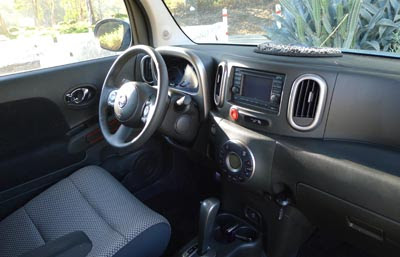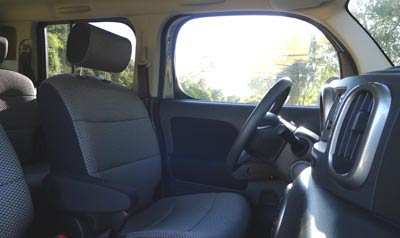 -HOW IT IS INSIDE.
The interior is mostly covered with hard plastics. But that's ok for a car this price.
At least everything looks and feels pretty solid.
Up front, the seats are very roomy. And everything seems so far. Like the dashboard and especially the windshield.
Which gives you the weird impression of driving a small bus, or a shoe box.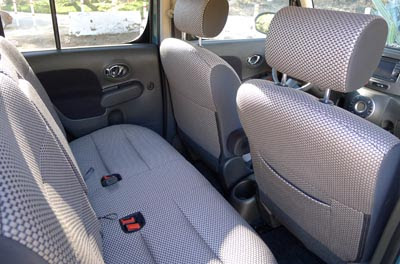 The back seat is another story. I was surprised to see it isn't that roomy.
There wasn't much leg room once I was in the driver seat.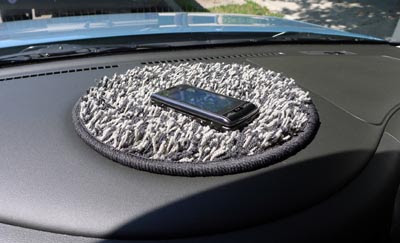 This small dashboard rug, called the "Shag dash topper" is part of the $230 Interior designer package.
It looks fun, and seems like a great idea.
Except, it doesn't really work.
First, whatever you put on there is right under the hot sun.
And then the rug doesn't really hold anything in place turing turns. They should keep this great idea and use a different, grippier material.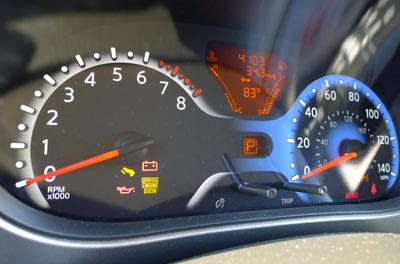 The interior has a few fun looking touches everywhere.
The stereo sounds great. (The one in my Krom model was a Rockford Fosgate unit).
But the iPod is still exposed on the console. And there is no covered storage except for the glove compartment.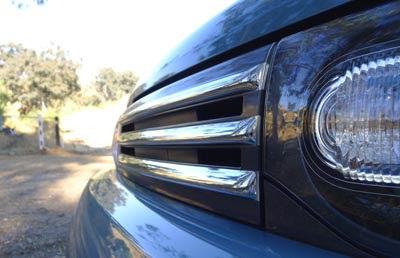 -HOW IT DRIVES.
.Ride and steering.
The ride is very smooth.
The Cube is a very comfortable car, around town or on the freeway.
It doesn't have a sporty ride. Nissan leaves that to the Juke.
The steering is light but not as much as some. And it still has enough feel to it.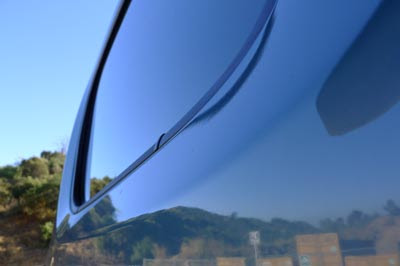 .Engine and transmission.
The small 1.8 Liter has enough power for the Cube.
Sure, most cars can always use a bit more, but the Cube is not meant to be sporty. Again, Nissan offers the Juke as a sporty alternative.
Besides, I wouldn't really want to drive that fast in a car with this kind of shape.
The engine, just like in the Versa, is very quiet and smooth.
Unless you really try to push it. Which is kind of useless anyway.
It just isn't meant to be driven like a sport car.
The Cube with CVT is rated at 27/31 MPG.
I got 32/40 during my weekly drive. Surprising MPG on the freeway to me. I didn't expect such a square shape to do that well.
But it does come with a price called "wind noise". Which is always present on the freeway.
Due to it's shape, it is always very sensitive to cross winds as well.
And, like someone mentioned it here, the flat side windows do create a large amount of reflexions that you just don't experience on other cars.
But, it does come with the shape, I guess.
As for the CVT, I actually didn't mind it. I think it fits the relax personality of the car. I am not sure you could squeeze that much more out of 122hp with a regular automatic.
I am not a big fan of CVTs in general, but Nissan makes the best ones. The one in the Cube is not Nissan's best, but it is fine for the car's mission.
Plus, again, 40 MPG for what basically looks like a brick….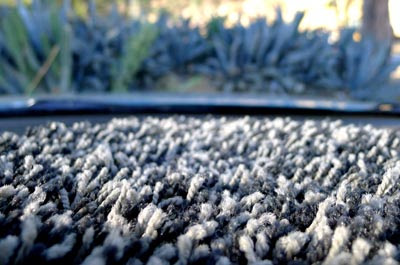 -SO???
The Cube is not for everyone. And it's not supposed to be.
Nissan has done a great job with their B Platform also used in the Versa and the Juke.
They have come up with 3 cars with very different personalities.
The Cube has tons of cargo room, looks fun, almost weird. Those who like it will love it when they drive it.
And they still offer a manual version if you don't like the CVT.
And if you want something sporty, there is the Juke.
The Krom version I drove was $ 22 200. And it won't be available for 2012.
It won't be missed. I much prefer the regular models.
A loaded SL will cost about $400 less.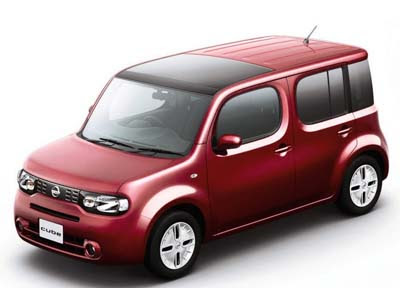 I just wish Nissan could offer the glass roof option available in other markets.
Maybe later…
At least, you can get a light grey interior . You're not stuck with black.